Victoria H.
Outside Hitter / Opposite Hitter
Team Ontario Regional Team 2019
Class of 2023
Six Pack indoor volleyball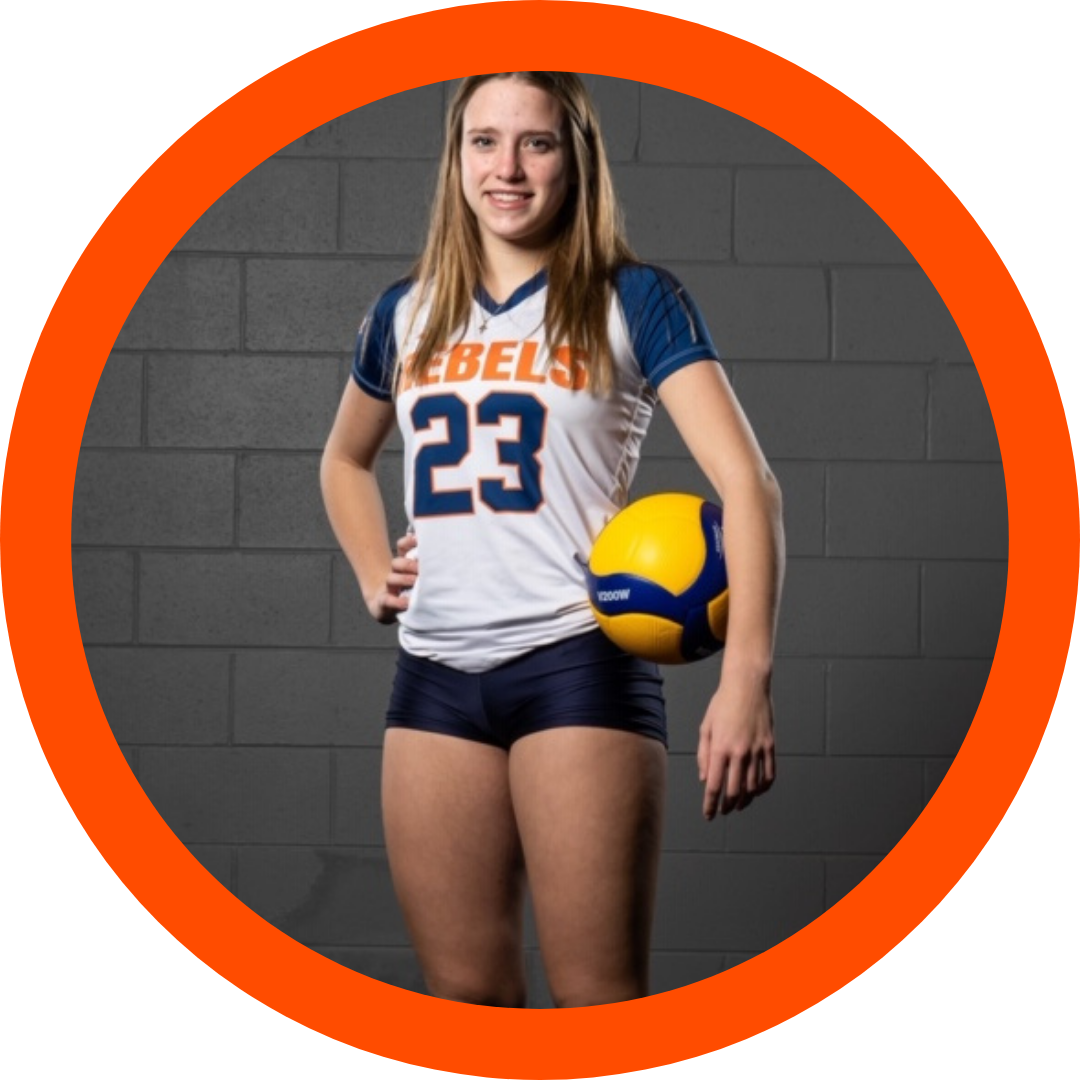 Height: 5'8″
Spike Vertical: 27″
Block Vertical: 20″
Reach: 7'5″
I am positive, hardworking and competitive in everything I do. Whether it be in sport or life. I love challenging myself to push my boundaries and learning new things. I always work hard as soon as I step out on the court at practice and in games.
I started out being a competitive figure skater at the age of 6 and won many gold, silver and bronze medals. I had always played volleyball in school and was continually asked to join our local rep volleyball club but continued with skating until I was 13. I decided that I had taken skating as far I could, and I left with all my gold testing finished and decided it was time to try volleyball. I always struggled with which sport I loved more. It wasn't until I tried out and made the team that I realized volleyball was my passion. Going from a solo sport to a team sport was so amazing and different. I love being part of a team and love the support I get to give and receive from my teammates and coaches.
Volleyball is what I love but I have been very successful in many sports. In school I joined every sport I could, from badminton to basketball to track and field and so on. I don't think there was a sport I didn't try. Besides being on the volleyball team, I loved track and field and was very successful at the regional level, usually placing top 3 in most of my races. I broke two school records in 2018 at DEAA, the girls 800m as well as girls' long hurdles. I have received the athletic award twice for best female athlete. I was also awarded best defensive player and was on the honor roll.
I have been told that I have an amazing vertical for my height, and this makes me a strong force at the net. At regional tryouts I had the highest vertical of all the girls at almost 10 feet and made the Regional team. Our regional team practiced hard together. I was on the starting line-up we and ended up winning the Regional Cup Gold medal in Guelph. I love playing middle, but I also work hard at being an amazing left or right side. I am a very versatile athlete who loves playing all positions on the court.
I attend the Academy for Student Athlete Development (ASAD). This is a school dedicated to sports, sports psychology, nutrition, lifestyle management and performance so I can be a well-rounded person and athlete. I am enrolled for the volleyball stream, where three times a week I work on strength and conditioning and two days a week a week I am on the court. I also spend some of my mornings
working with men and women with special needs and playing sports with them, like wheelchair basketball. I love this part of the program; it makes me appreciate my abilities and what they are so capable at doing is amazing! I think I am a better person and athlete because of them. It is one my passions to work with people with special needs and is something I am considering pursuing as a future career.
I am enthusiastic and I always have lots of energy. Although I have not been playing as long as some other girls, many coaches have told me that I am extremely athletic and have an infectious attitude and energy. Volleyball has become my passion. My dream is to make a national team some day and play University or College volleyball.
2020 VOLLEYBALL SCHEDULE 
DUE TO COVID-19 ALL TOURNAMENTS POSTPONED 
Hear Victoria share why
she is a great fit for your program. 
Outside Hitter / Opposite Hitter
2021 Durham Rebels Volleyball Club (DRVC)
Left Side 
Right Side
2021 Team Captain
2020 Durham Rebels Volleyball Club (DRVC)
Left side and Right side attacker
2020 Team Captain
Ontario Volleyball Association
2019 Team Ontario Regional Team
2019 Regional Team Gold Medalist
Multi sport athlete:
Volleyball
Basketball
Competitive Figure Skater (7 years)
Track and field

1500 m
800 m
Triple Jump
High Jump
Short and Long Hurdles
Awards and recognition 
2021 Ontario Volleyball Award of Excellence
2020 Ontario Volleyball Award of Excellence
2019 Female athlete of the year
Uxbridge Secondary School
Class of 2023
Honour Roll student
Victoria H. 
Class of 2023 
Victoria is an explosive athlete who has recently converted from playing middle, as an undersized blocker, to a more natural fit on the left side.  Tori has carried the quick arm action and blocking mentality that comes with the middle position  to the left side which has made the net play a seamless transition.  Victoria tests at above 9'10 with her spike approach at 15 years of age, and with her off court commitment to physical preparation, should reach 10 feet plus in the coming years.  Her focus at the beginning of the year was to catch up with primary passing serve receivers and becoming an outlet attacker at all times through front row and back row.  Victoria's drive to improve has produced incredible results in this regard, as through just one year of practice she has propelled herself to the front of the pack as a primary serve receiver and outlet attacker.  Victoria's mentality has earned her the team captain role with her highly competitive club team and her unique physical abilities applied to the left side will make her an incredible asset in  her future volleyball endeavors,  post-secondary and beyond.
Sportsmanship. Performance, Dedication, Perseverance Award 
President Day Challenge, Detroit
February 2020 
Will understand each and every athlete to ensure your recruiting experience is enjoyable and relaxing.
Regular online meetings offering support with updates about your recruiting profile.
Will provide full email and phone support during the recruiting process.
Professional athletic resume to be provided.
Professional 2-3 minute video created with your raw footage.
Will pre-screen in order to work with Canadian,  United States and overseas coaches.
BONUS - Will personally come and watch you play within a 150km radius of our home base.