Maddy Pelosi
Defender / Libero
Class of 2023
Six Pack Beach volleyball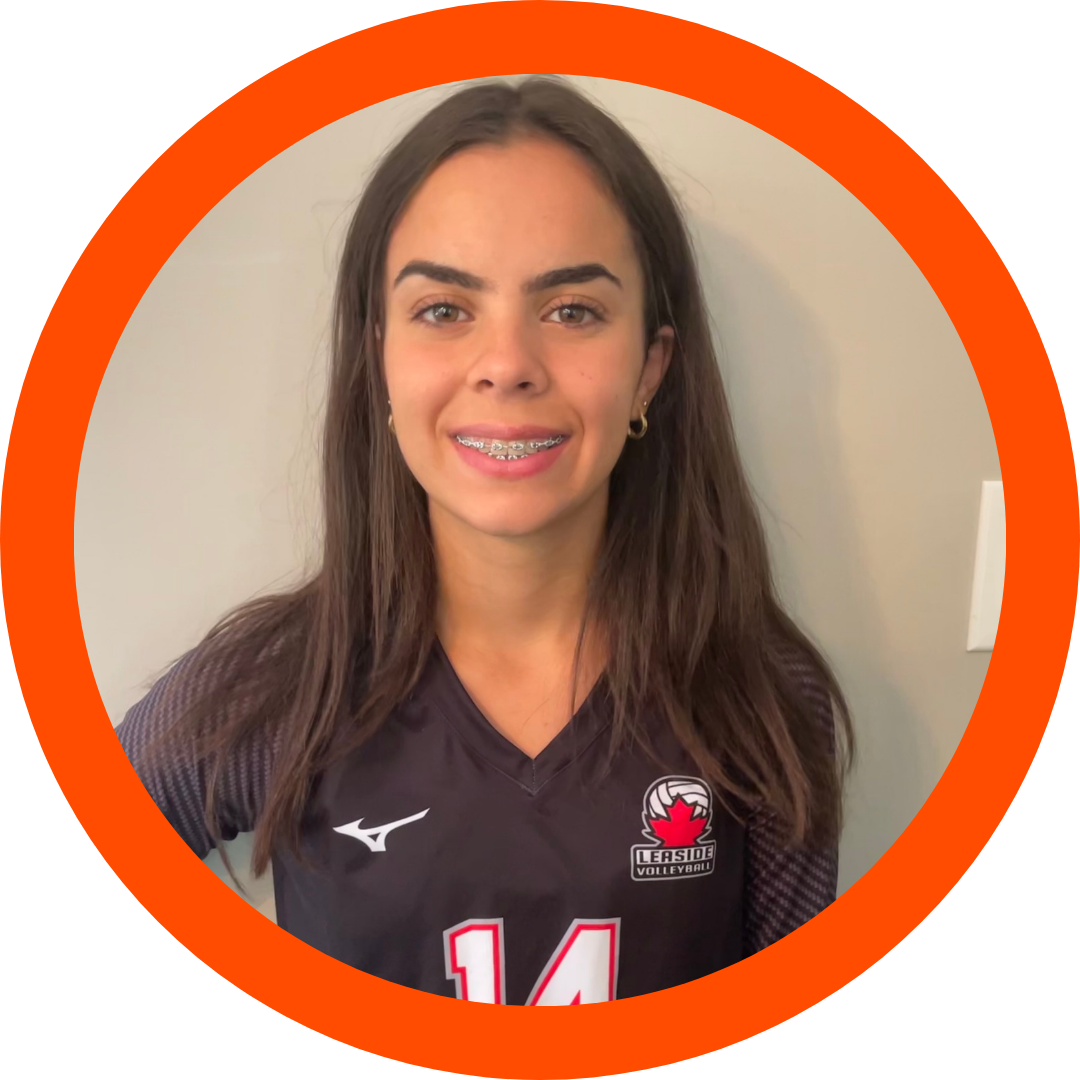 Height: 5'4″
Spike: 9′
Instagram: @madelinepelosi
Five words you can use to describe yourself on the court:
Competitive
Confident
Focused
Energetic
Leader
Five words you can use to describe yourself off the court:
Enthusiastic
Self – Motivated
Responsible
Hard working
Dedicated
Describe how you work in a team with your partners.
On a team, I think it is very important to work together to accomplish a team goal. As a libero, I feel that it is necessary to communicate with everyone on the team on and off the court. I like to motivate my teammates and encourage them to do their best whether it's a practice or in a tournament. I also try to ensure that the team stays positive and remembers to enjoy the game.
Athletic highlights and how you felt when you received them:
2019 – Beach Volleyball Nationals – Silver medalist
2019 – Indoor Canadian Nationals – Silver medalist D1T2
2018 – Ontario Summer Games – Gold medal finish
One of my greatest highlights in athletics was finishing second at Canadian Nationals. I was very proud for both my partner and myself. I gained a lot of confidence in my abilities. After medaling, I knew the tournaments would only get harder and so I was prepared to work even harder and get back on the podium. Even through Covid, I have been continuously training to continue to improve my skills.
What are your interests outside of sports? Why do you like them?
I don't usually get much time in my week outside of sports and homework, but when I do, I spend it with my family, friends and my dog, and together we go on walks or prepare meals together.
Who are your role models and why?
My role models are my two older sisters, whom I've looked up to my whole life. They have influenced the way I play and always encourage me to do my best. They were my first coaches and are now my biggest fans.
Another one of my role models is Josh Binstock, a former Olympian in Beach Volleyball. He has coached me many times on my technical skills and more recently I have been participating in his Binstock Olympic Angle mental training program.
What program would you like to attend in university/college?
I am interested in math and sciences
How do you envision your school life in college/university?
I imagine myself playing volleyball at a very high level, while attending classes and keeping a busy schedule. I also imagine that during my off season I would be competing in beach volleyball competitions.
2021 – 16U USAV Nationals OPEN division – 17th place
2021 – 18U Ontario Provincial Championships – D1T1 – 5th place
2021 – 16U Ontario Provincial Championships – D1T1 – Bronze Medalist
2020 – GNBV Showcase Tournament – 3rd place
2020 – No competitions due to Covid-19
2019 – Legacy Beach Volleyball Showcase – Bronze Medalist
2019 – 14U Canadian Beach Nationals – D1T1 – Silver Medalist
2019 – 16U Ontario Provincial Championships – D1T1 – 8th place
2019 – 14U Ontario Provincial Championships – D1T1 – 5th place
2018 – 14U Indoor Canadian Nationals in Edmonton – D1T2 – Silver Medalist
2018 – 14U Ontario Summer Games – Gold Medalist
I attend Bishop Allen Academy in Etobicoke, Ontario for its Extended French Program and Advanced Placement Program.
Would like to pursue a degree in Engineering.
Class of 2023 Honour Roll Student
3.9/4.0 GPA
Interested in Science and Math
Achieved Honour Roll every year since grade 4.
Grade 9:
Grade 10:
All Saints Catholic School Recognition
Athlete of the year award
Academic excellence
Beach Tournaments and participation
2021 USAV Beach Nationals
17th place finish
Pompano Beach, FL
2021 Stetson Beach Volleyball Camp
2020 BVNE/ Sixpackrecruiting International Event
4th place finish
Toronto, Ontario
2019 Canadian Beach Volleyball Nationals
Silver Medalist
Toronto, Ontario
2019 Legacy Beach Volleyball US Showcase
2018 Ontario Summer Games
Team Ontario
Region 5
Gold Medal
Clubs and Program Involvement
2021 Leaside Volleyball Club
18U High Performance Team
Libero
3 year member
2018 Pakmen Volleyball Club
15U High Performance Team
Libero
2017 Etobicoke Titans Volleyball Club
13U High Performance Team
2 year member
Ontario Volleyball Association
Ontario Summer Games
Region 5
Libero
USA Volleyball Association
Munciana Volleyball Camp
Las Vegas Classic
Awards and Recognition
2019 Ontario Volleyball Award of Excellence
2019 Ontario Volleyball MVP award
2019 Bishop Allen Junior Volleyball MVP
2017 Ontario Volleyball Award of Excellence
Multi Sport athlete and participation: 
Volleyball
Beach Volleyball
Basketball
Cross Country
Softball
Soccer
Track and field
Volunteer and Leadership Experience:
Grade 9 – Athletic Council at high school
Grade 8 – Mentor and guide for exchange students
Grade 8 – Volunteer for Me to We events, including a book sale
Mid Grade 9 to present – high schools programs cancelled due to Covid-19
Will understand each and every athlete to ensure your recruiting experience is enjoyable and relaxing.
Regular online meetings offering support with updates about your recruiting profile.
Will provide full email and phone support during the recruiting process.
Professional athletic resume to be provided.
Professional 2-3 minute video created with your raw footage.
Will pre-screen in order to work with Canadian,  United States and overseas coaches.
BONUS - Will personally come and watch you play within a 150km radius of our home base.