KATRINA W.
Setter
Class of 2022
Six Pack indoor volleyball
Height: 5'7″
Position: Setter
DUE TO COVID ALL TOURNAMENTS ARE POSTPONED
UNTIL FURTHER NOTICE 
Volunteer lifeguarding 
Volunteer beach volleyball coach
Me to We leadership and volunteer camp in Arizona
Swim team captain
School swim club assistant coach
MasterKey leader
Athletic Steward
Bigside Tie
Award of Excellence – Trent Swim Club
TEAC member (Trinity Environmental Action Club)
Grade 9 and 10 Rep. for Trinity College School
Personal training for swimming
Personal training for volleyball
Camp Ak-O-Mak competitive swimming and triathlon camp
Camp Olympia competitive swimming camp
Camp Madawaska volleyball camp
Soccer referee
My name is Katrina Wang, and I will graduate high school in June 2022. I have been playing OVA volleyball for 5 years and beach volleyball for 7 years and love every second of it. Currently I attend Trinity College School and play on Durham Rebels Volleyball Club's U17 Ruthless team. I am very passionate about the sport as it allows me to zone out of a busy schedule and focus only on volleyball. I love to be active and to motivate, encourage, and inspire others. Volleyball is such a supportive environment and for this reason and many others I would like to continue playing in university .
I have been playing sports ever since I can remember and it has allowed me to be a team player and to work hard. I love to be active not only to maintain health and fitness but also to refocus, strengthen my body and mind, and to gain confidence in myself. I work hard on and off the court keeping a balance between family, sports, and academics. My coaches would describe me as coachable, hardworking, supportive, and an intellectual player which I believe are excellent attributes for an athlete. My teachers, friends, and family would describe me as outgoing, reliable, encouraging, and approachable. 
Being an athlete I have found that it takes a great amount of perseverance and courage to move on after mistakes and failures. My strong mental health has allowed me to quickly and swiftly bounce back, refocus, and make the next play better. After playing up a year in my first year of  competitive volleyball I found that I was behind and needed extra support and practice. I attended Camp Madawaska volleyball camp, Olympia Sports volleyball camp, Soul Beach Volleyball, and Invado's Beach Volleyball League every summer to ensure I was keeping up with my precision and to get more touches. I want to excel and as a setter, I am able to push the ball from the outside court lines. For this reason, I have personal training to strengthen and increase my endurance and have strengthening and conditioning coaching along with cognitive strengthening training. This additional  training has introduced new coaches and setting specialists who assisted me in becoming the best setter at my fullest potential. A few accomplishments I am proud of in my sports career are earning first place in the Sharbot Lake Triathlon, Award of Excellence for competitive swimming, gold in Queen's University Memorial volleyball tournament, gold in Volleyball Canada Nationals, MVP for volleyball and basketball, earning athlete of the year, Big Side tie (three varsity sports in one school year) in grade 9, 10, and 11, and my school's athletic steward.
In addition to my sports, I am also devoted to helping others and the community. I volunteered at Brock Mission where I am able to problem-solve and communicate, and I volunteered at Access Community Service in which my dependability and support was greatly appreciated. I am fortunate to have had the opportunity to go on a service trip to Arizona assisting others by doing holistic sustainable development work and giving back to the community. With the opportunity to help others and their communities I gained new skills to become a more confident leader and skills to work through conflicts. Community members shared their knowledge and experiences inspiring me to get involved back home. I am a member of TEAC (Trinity Environmental Action Club) where we learn and teach others the importance of creating a sustainable future. Other leadership roles I am involved with include representing my school as an athletic steward and a MasterKey leader which I represent the spirit of the school to prospective families.
Travelling has also shaped me into the person I am today. It exposed me to new adventures, the 'real world', and allowed me to experience new cultures. Travelling promotes happiness by helping me take my mind off stressful situations. When I take a vacation I always make time to stay active. I enjoy going to the gym and going for runs. Even at home I run at least four times a week to improve my physical and mental health and to get a breath of fresh air. I also like to attend volleyball camps when I am away on vacation. When I go to Hawaii, I attend the Pinnacle Volleyball Camp where the University of Hawaii's volleyball coach coaches. 
In addition to being a volleyball athlete I have also been a coach for the Northumberland Breakers Volleyball Club beach program. This experience not only enhanced my leadership and mentor skills coaching alongside Canada's national volleyball players allowed me to grow as an athlete as well. I have also coached soccer and am a soccer referee, certified babysitter, and lifeguard. 
With my outstanding attributes, training, and coaching experience and skills l will be an excellent candidate as setter for your 2022 team. I am a well rounded multi sport athlete with an exceptional personality and outgoing spirit. I am devoted, determined and eager to learn which would make for a valuable player for your team and school.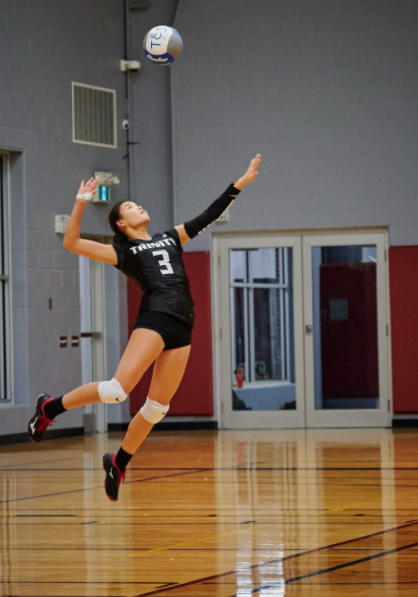 Clubs and Program Involvement
2020 Durham Rebels Volleyball Club
2019 Peterborough Thunder Volleyball Club
Soul Beach Volleyball Club
Northumberland Breakers Beach Volleyball Club
GOLD MEDAL – Volleyball Canada National Championships
Multi Sport athlete and participation: 
Volleyball
Basketball
Soccer
Ultimate Frisbee
Swimming

Award of Excellence
Team Captain

Dance
Triathlon athlete

     1st place Sharbot Lake Triathlon

Camp Olympia

Competitive Volleyball camp
Competitive Swimming camp

Lacrosse
Track & Field
2018 Athlete of the Year Award
Athletic Steward and Bigside Tie award 
awarded to athletes who compete for multiple sporting teams
Trinity College School, Port Hope
Class of 2022
Honour Roll Student 
Would like to pursue a degree in Science with possible consideration towards Dentistry or ENG
Instagram: @katrinawang_volleyball
Practice Video – March 2021
Practice Video – April 2021
I have coached Katrina over her 3 years in the Trinity College School volleyball program. Katrina earned the starting setter role on the senior girls team in her grade 9 year as her hard work had led to solid court movement when tracking the ball in order to run the offence. Hitters rely on consistent set placement and height and Katrina has greatly improved in this area. Katrina has gained the strength to set the left side high ball and the touch to run quick sets in the middle and back sets to the right side.
Serving is another strength and consistency with her jump serve has been another key to her role on the TCS senior girls team. Katrina is a great teammate, respected by all the girls, and plays her role to help the team without a hint of selfish play.
Will understand each and every athlete to ensure your recruiting experience is enjoyable and relaxing.
Regular online meetings offering support with updates about your recruiting profile.
Will provide full email and phone support during the recruiting process.
Professional athletic resume to be provided.
Professional 2-3 minute video created with your raw footage.
Will pre-screen in order to work with Canadian,  United States and overseas coaches.
BONUS - Will personally come and watch you play within a 150km radius of our home base.