Jessica Philpott
Setter / Opposite
Class of 2022
Six Pack indoor volleyball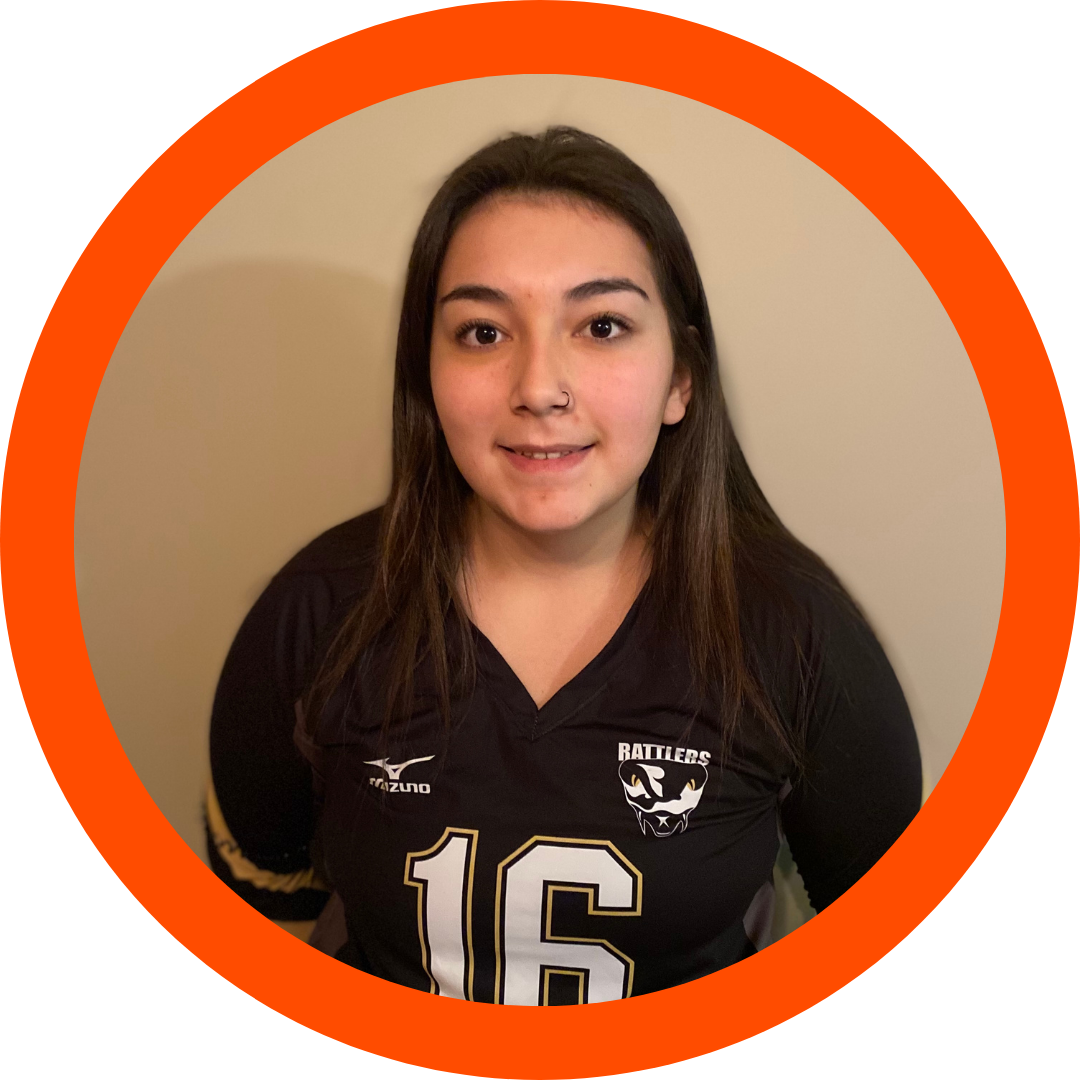 Five words you can use to describe yourself on the court.
Determined
Hard working
Positive
Drive
Team player
Five words you can use to describe yourself off the court.
Focused
Resourceful
Easy-going
Open minded
Self-confident
Adaptable
Describe how you work in a team with your partners.
I am a team player, I believe we win as a team we lose as a team, no one player is greater than the other. I work hard and I push my teammates to the extent that our coach says. As a setter, I have to learn how my teammates play and how they like their set and because of that I've become good friends with my teammates. I will always take the blame for a set that ends up in a bad hit, or even if it ends up being a good hit, I will apologize for the set and get it right the next time. I always try to motivate my teammates on and off the court whether we are winning or losing I will always try to put a smile on my teammates faces.
Athletic highlights and how you felt when you received them:
I have made the Senior Team in my high school for the past 3 years and I am extremely proud of myself and how I have improved my skills and my team bonding skills to this extent.
Making SEAVC Rattlers, there were many girls at the tryout who were very good. This team usually doesn't take on new players so when my coach offered me a spot I was ecstatic and couldn't believe I made a D1-D2 team! I have been working extremely hard to prove my spot on the team and to earn my playing time.
In Grade 9, I had the blessing to be the female athlete of the year, I was so honored to even be nominated for the award and was absolutely thrilled with winning the plaque.
What are your interests outside of sports? Why do you like them?
I have a deep love for animals. Myself, I have a lizard and a dog. They are my world. They are what keep me going and I have had them my entire life.
I like to spend my free time with friends. I try to make my younger years as fun as I possibly can so that I can look back one day and think of all the amazing experiences I have had.
I love to travel and learn about the different cultures of where I travel to. I like to learn about history, more spasticity world wars and the Cold War, and diseases from years ago like the plague. I love being outdoors and camping is one on my favourite thing to do, I always go seadooing every summer and take my friends with me and enjoy the hot weather while we can.   
Who are your role models and why?
My older sister Kathryn Philpott is my biggest role model. She has always been my biggest supporter and my biggest fan. I know getting into a college for volleyball would just amaze her and she would be so proud of me. She has always pushed me from a little kid to now to never care what people have to say about you but to make yourself who you want to be. She lives in Hawaii throwing javelin and even though she is busy with college and training, she always makes time to talk to me and help me with whatever I need. I will always be there for her as well.
My other role model is Mr. Bellamy. He is a 78 year old man who has watched me grow from middle school until now. He has always supported me and has always wanted me to play in a higher league of volleyball. I had the honour of him coaching me in my last year of high school volleyball, as well as his last year of coaching. He was always there for me and I will forever be there for him.
Involvement in other sports or extracurricular. Why is it important for you?
I throw javelin and played basketball until Grade 12, where I had to pick between club volleyball or basketball. I have been throwing javelin since Grade 7. It is important to me because it's a big part of my life. I train all summer for meets and I am proud of where I have travelled to due to my throwing abilities. And because it is the same motion as hitting a volleyball, both sports have helped me become better for one another.
Academic highlights and how you felt when you received them?
All throughout Junior High, I had been nominated for the silver medal. Overall I was in the 80s mark but unfortunately, I got beat out by one of my friends. I was so proud of her for getting the award.
Last year, I struggled through my assignments in Science and decided to drop the course and take it in my grade 12 year. I only had 3 months to finish my science course, which should have taken the whole semester, but I pushed through it and did it within the 3 months and now I am taking my final exam and am progressing in to my last year of science.
What program would you like to attend in school?
I would like to go into a teaching program. Since Grade 6, I knew I always wanted to be a teacher, more specifically, a history teacher. I would also like to take any courses that I am interested in just to have the opportunity of learning about it.
How do you envision your school life in college/university?
I see myself as a student athlete, going from school straight to practice then getting home and maybe even preparing for a test. I know being a student athlete is hard, I've watched my sister do it but I have learned what it's like because I had the chance to go through my sister's day for just one day. Since having this experience, I have been motivated to push myself through college and be the student that the teachers are proud of, while becoming an exceptional volleyball player.
Silver Medalist at 16U Provincials
Brooks Composite High School, Brooks, Alberta
Would like to pursue a degree in Education.
Class of 2022
74% average
3.0 GPA
I always to keep a positive attitude, even in the toughest situations. I'm always trying to keep the team happy and motivated while in a timeout or while playing. During timeouts the little things that I picked up on from the other team I will share with my team and suggest to try something out.
I am a hard working person; I like learning new skills and tactics. I read my court, my side and my competitions side to see who I can use for curtain plays and how they like their set. I also analyze open spots on the other side or which players are playing too deep or too high and try to take advantage of them. -Jessica Philpott
Clubs and Program Involvement
2022 South East Alberta Volleyball Club (SEAVC) Rattlers
2019 – 2021 Brooks Rush Volleyball Club
Provincials Division 3 – placed 2nd
High School
Brooks Composite High School volleyball team
Most Valuable Tournament Awards
Female Athlete of the Year 2017-2020
Multi Sport athlete and participation: 
Volleyball
Track and field

Javelin
Record distance holder Caltaf Classic
Placed 3rd in Nationals

Badminton
Basketball
Ringette
Athlete of the Year Award
Grade 9 2018
Grade 10 2019
Grade 11 2021
Instagram: @Jessica__philpott
Will understand each and every athlete to ensure your recruiting experience is enjoyable and relaxing.
Regular online meetings offering support with updates about your recruiting profile.
Will provide full email and phone support during the recruiting process.
Professional athletic resume to be provided.
Professional 2-3 minute video created with your raw footage.
Will pre-screen in order to work with Canadian,  United States and overseas coaches.
BONUS - Will personally come and watch you play within a 150km radius of our home base.