JENNA STEACY
Outside Hitter / Opposite Hitter
Class of 2023
Six Pack indoor volleyball
Height: 5'8″
Spike: 9'7″
Attacking Velocity: 74 km/hr
Serving Velocity: 67 km/hr
Block: 9'1″
Wingspan: 5'10"
Pro-agility Test: 3.34 seconds
Beep Test 13.2
200m sprint 27.14 seconds
DUE TO COVID – TOURNAMENT PLAY  POSTPONED FOR NOW
Five words you can use to describe yourself on the court.
Resilient
Aggressive
Smart
Ambitious
Versatile
Five words you can use to describe yourself off the court.
Hard working
Dependable
Innovative
Driven
Enthusiastic
Describe how you work in a team with your partners.
Team sports have always been more dominant in my life compared to individual sports. Based on my experiences in different team sports, I've realized that each person plays a crucial role in the success of the team and that it eventually builds towards an excellent team environment. I am determined, encouraging, reliable, physically prepared, open and I make sure I'm able to build positive relationships with my team and coaches. When given the opportunity, I like to take on the leadership role and do so to encourage and enhance my teammates' potential in a positive manner. I work to be accountable for my actions and rely on my teammates forming trust and better relationships.
Athletic highlights and how you felt when you received them.
Alberta Winter Games Volleyball- Gold Medal (2020)
Receiving this athletic achievement was an astounding experience to share with my team. We worked as a team, had a common goal and achieved it. –
When I received the top athlete award, I felt honoured to have my achievements recognized. It showed me that all my hard work and dedication had paid off.
Involvement in other sports or extra-curricular. Why is it important for you?
Sports and extracurriculars have shaped the student athlete I am today. They have not only provided me with fundamental skills, but gave me the opportunity to explore my capabilities. My participation in competitive sports like swimming, club soccer, track and field and basketball have given me the mentality to perform under pressure and contributed to skills that I use in volleyball. Extracurriculars that I have also thoroughly enjoyed include tutoring, band, and coding. They have taught me the importance of a balanced lifestyle between sports, school and other passions. Taking the option Sports Performance has helped me with my aspirations. I have learned about improving my fitness, goal setting, and nutrition.
Sports I participated in, in junior high:
Cross country
Indoor Running Games
Soccer
Volleyball
Basketball
Badminton
Handball
Flag football
Track and Field
What are your interests outside of sports? Why do you like them?
Even though sports keep me occupied during most of my free time, I make sure to dedicate some towards travelling, hanging out with friends and my other hobbies. I have not traveled a lot recently, due to the pandemic, but I am grateful for the experiences in the past and times I was able to meet with family I don't see often. I am also a very social person and enjoy interacting with people to grow my relationships. My relaxing hobbies include, reading, baking and coding.
Who are your role models and why?
A role model of mine is Tami Alade. She is a very committed hard-working athlete that always inspires and encourages her teammates. I admire her ability to balance academics and athletics to become a perfect student athlete and pursue her passion, which is what I strive to do. My other role models are my parents. They were the ones who taught me the importance of passion and that anything is possible as long as I dedicate my time and effort. I know they are my biggest supporters and will encourage me to pursue whatever I want to do in my future.
Academic highlights and how you felt when you received them.
Aernie engar award (Top athlete and academic – 2020)
Honours with Distinction Academic Award -2018-present
Coding award – 2020
Receiving these awards has allowed me to appreciate the hard work and dedication I have put into academics and athletics. When I get recognition of my achievements, it pushes me to work harder and hold myself at a higher standard because I know I can always improve. From receiving honours with distinction throughout all of junior high and now participating in the advanced placement program (AP) at high school, I know I have set myself up to continue expanding my knowledge and striving for excellence.
What program would you like to attend in school?
Based on my interests, I would like to attend the Faculty of Medicine or faculty of Dentistry Program. I would like to specialize in Sports Medicine, Cardiology, or Orthodontics.
How do you envision your school life in college/university?
I envision my school life in university to be busy but full of things that I enjoy doing the most. Even though I have to manage my time between school and volleyball, I know that when I attend university, I will learn and do what I am passionate about. When I want to achieve something, I am sure to put my best foot forward even if it means dedicating a large amount of time and work. I want to be able to contribute to my university community in either athletics or academic
Strathcona Composite High School
Class of 2023
Grade 10 Honours 98.6% average / 4.0 GPA

AP Science 98%
Coding 10c 99%
Social Science 97%
AP Math 99%
Sport Performance 100%
Leadership 100%

Would like to pursue a degree in Medicine or Denistry

Sport Medicine
Orthodontics
Cardiology
Academic Awards:
Grade 9:
Arnie Enger Award 2020 (top academic and athletic recognition)
Honours with Distinction 2018 – 2020
Advanced Coding award 2020
Athletic Award 2018 – 2020
Band Award 2020
Volunteer Award 2018 – 2020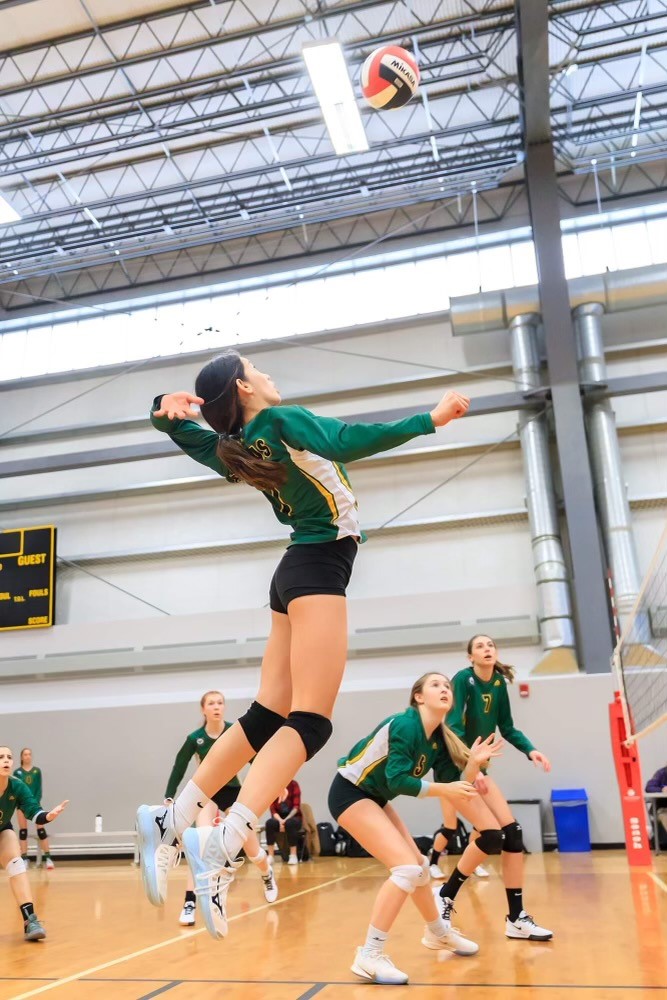 Outside Hitter / Opposite hitter
Clubs and Program Involvement
2020 Pandas Volleyball Club
Left Handed
Outside hitter / Opposite
Defensive Specialist
4 year member
Indoor:
Aspire Volleyball Outside Hitter Invite Clinic (2019)
Apire Volleyball Setters Invite Clinic (2019)
Lorne Sawula's Volleyball Lab (2019)
Pandas Outside Hitters Clinic (2019)
Pandas Libero Clinic (2019)
Aspire Volleyball 16U Invite Clinic (2020)
Beyond The Game Recruiting Showcase – Northern Alberta (2020)
Volleyball Alberta Premier and Provincial Tournaments (2020)
Beach:
Volleyball Alberta Premier and Provincial Tournaments (2019)
Aspire Beach Skills and Play (2019)
Aspire Beach Volleyball League U18 Male/Female (2020)
Alberta Volleyball Association
2020 Alberta Winter Games
Zone 6 (Edmonton)
Gold Medal Winners
Alberta Summer Games 2018
Alberta Summer Swim Association 
Region C provinicials
Current Provincial Record holder – freestyle
Gold medal Provincial (2013 – 2019)
Swimmer of the Year award 2016 – 2018
Multi Sport athlete and participation: 
Volleyball
Beach Volleyball
Cross Country Silver medalist
Club Soccer
Swim Club

Swimmer of the Year recognition

Club Basketball
Track and field

Triple Jump Silver medalist 2019
Long Jump Silver medalist 2018
4×100 relay Bronze medalist 2019
80m Hurdles Gold medalist 2019

Flag Football
Handball
Downhill Skiing
Junior Ski Patrol
Badminton
Instagram: @JENNA_STEACY_VOLLEYBALL 
Strathcona Composite High School
Class of 2023
Grade 10 Honours 98.6% average / 4.0 GPA

AP Science 98%
Coding 10c 99%
Social Science 97%
AP Math 99%
Sport Performance 97%
Leadership 100%
November 2021 Provincial Championships
November 2021 Attacking Video
Left Handed Opposite / Outside attacks
Covid Practice video 2021 
Serve Receive 2021
Covid Practice footage
Practice footage January 2021 
Covid Practice Footage, Defense
Will understand each and every athlete to ensure your recruiting experience is enjoyable and relaxing.
Regular online meetings offering support with updates about your recruiting profile.
Will provide full email and phone support during the recruiting process.
Professional athletic resume to be provided.
Professional 2-3 minute video created with your raw footage.
Will pre-screen in order to work with Canadian,  United States and overseas coaches.
BONUS - Will personally come and watch you play within a 150km radius of our home base.