JADA W.
Libero
Class of 2023
Team Ontario Indoor 2021
Six Pack indoor volleyball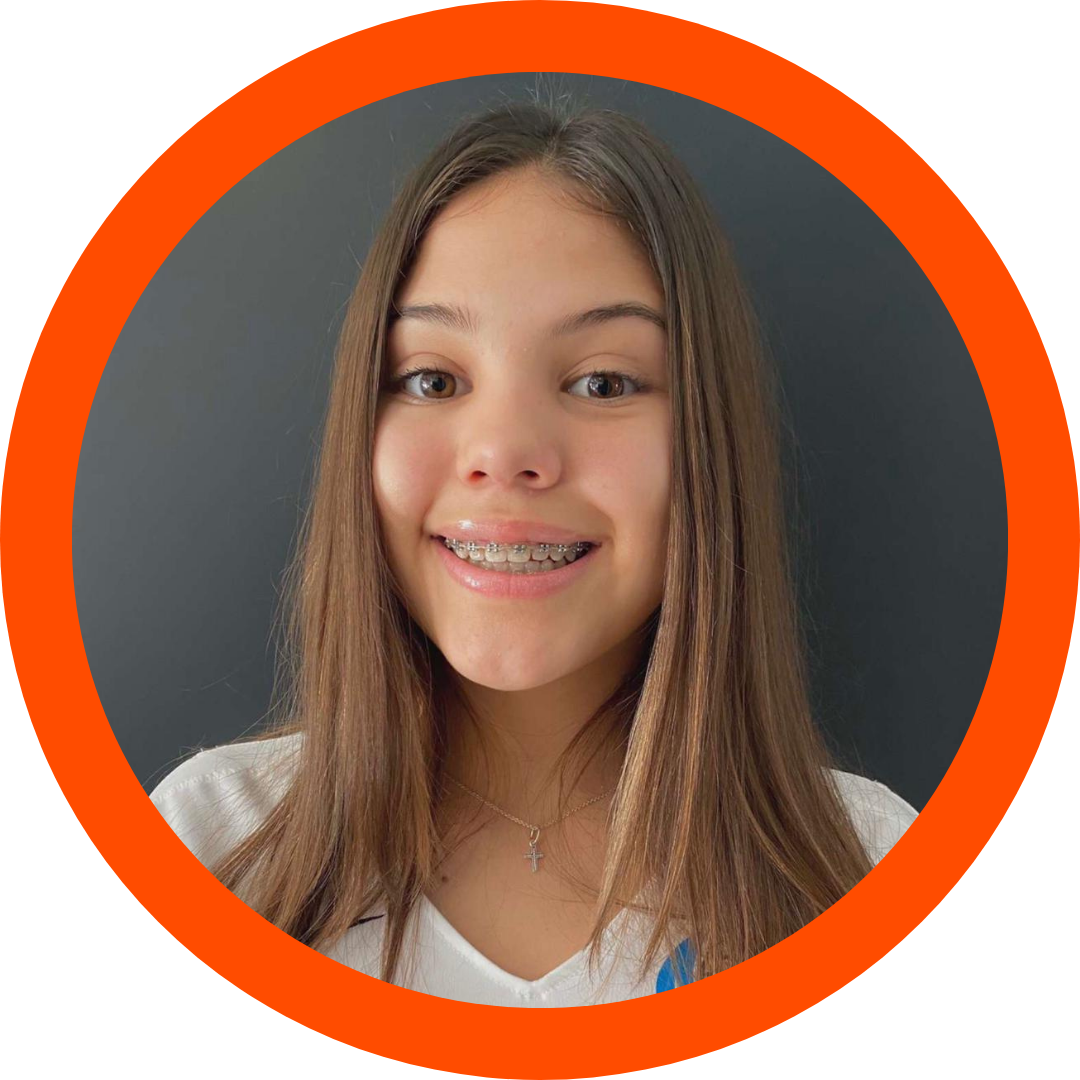 Five words you can use to describe yourself on the court.
Determined
Leader
Energetic
Focused
Aggressive
Five words you can use to describe yourself off the court.
Outgoing
Confident
Funny
Hardworking
Positive
Describe how you work in a team with your partners.
Working as a team is enjoyable to me. This is true with my team indoor or beach partners I've had. I like the bond and trust that is created between us all. My energy is contagious, and I like to be able to share it with others. I feel that I am a leader who helps motivate others. I lead by example such as staying focused at practice and always giving 100% effort in hopes my teammates will follow. I try to get the whole team engaged, working together and make everyone feel involved. We each have an important role on the team. I help and support my teammates by providing positive feedback and accepting constructive criticism. My energy helps bring others up when they are feeling down on and off the court.
Athletic highlights and how you felt when you received them.
In receiving my OVA award of excellence, my 2 Madawaska camp awards, and MVP 2 years back to back at the Bishop Reding feeder school volleyball tournament, I feel honoured that my coaches and teammates perceive me as a dedicated athlete to the sport of volleyball. It acknowledges my commitment, leadership and team spirit. I am thankful that my hard work does not go unnoticed
Involvement in other sports or extracurricular. Why is it important for you?
I play a few sports outside of Rep Volleyball. In school I've been on the junior volleyball team, cross country team and junior badminton team. In elementary school I was on the soccer team as well as the basketball team. I was also looking to play soccer in high school this season, however with Covid we will have to wait till next season. Outside of school I enjoy playing basketball with my friends and going on runs. Participating in these sports has helped me decide that volleyball is my passion and what I want to do in the future. These sports have also given me great athletic traits that contribute to my performance in volleyball such as endurance, strength, coordination and speed.
What are your interests outside of sports? Why do you like them?
Outside of sports I enjoy spending time with my family and friends. My dad and I love spending time in the kitchen. We bake together and give our desserts to our family. We are always looking for new recipes to try. I enjoy doing outdoor activities such as bike rides and hikes with my mom and older sister. I really enjoy game nights playing cards, chess, or monopoly. I was able to enjoy my summer of 2020 because of these activities. The pandemic caused my family to spend more time together. We took advantage of this extra time and spent it outside. We were able to explore new things and find new places to hike. When I have time to myself, I enjoy writing stories, going swimming, and running, along with my newfound hobby of media arts and designing.
Who are your role models and why?
My role models are Fred Vanfleet and Morgan Hentz. I Look up to Fred Vanfleet because as a smaller athlete I feel like I can relate to him in a sense that I must work 10x harder so I can stand out from the rest of the athletes. His determination and grit inspire me. Freddy was doubted, overlooked and went undrafted. This did not hold him back; he continued to work hard and "bet on himself". Fred signed a free agent deal with the Raptors, and the rest is history. Toronto gave him a chance to prove himself, and that's just what he's done. After an NBA championship and an $85 million-dollar contract, it's fair to say the bet paid off.
Morgan Hentz is the libero that played on the Stanford women's Volleyball team and currently plays professionally in Germany. I aspire to be like Morgan; she is a hard-working dedicated athlete who always shows her passion on the court. Her Volleyball IQ and skill is amazing, and she always brings 100% effort. She is an example of an athlete with a competitive, unstoppable, and passionate attitude. I hope to grow and have the same mentality and swagger she does as a libero.
Academic highlights and how you felt when you received them.
A few academic highlights I've received is 2019 honour roll, 2020 honour roll and the overall highest score on my science exam. When I achieved these, I felt proud of myself and I was happy to know that my hard work off the court has paid off. I feel successful as a student athlete.
What program would you like to attend in school?
I have not completely decided, but I would like to do something in sports medicine, kinesiology, and I am considering teaching.
How do you envision your school life in college/university?
In college or university I see myself putting in a strong effort to maintain a balance of a post secondary volleyball experience, high academic scores and a healthy social life such as experiencing college/university events. I see myself setting high standards and goals so I can be the best version of myself.
2021 Volleyball Schedule:
DUE TO COVID-19 ALL TOURNAMENTS POSTPONED 
My interest in volleyball started when I was 9 years old when my older sister came home one day and said she wanted to play volleyball. As the younger sibling it was my job to try and be like my sister, so I decided I wanted to play as well. My sister went into development leagues and that summer my parents put us both into a volleyball camp. That summer was when I fell in love with Volleyball! That Fall I started doing development leagues, along with other programs and I returned to that camp every summer until I was too old to attend.
When I was 11, I was interested in playing 12U however, there were limited opportunities because not all clubs offered this age group, so I decided to join a house league to prepare for what would be my 13u season. Soon before the house league started, we found a local club Milton Edge with a 12u team and I decided to try out and I made the team. Deciding to play 12u was a great decision because it introduced me to the feel of competing and it was tons of fun. That was the year I realised I wanted to take my volleyball career to the next level and continue to play at a high level in my future. That season we placed 5th in the province at Championships.
That summer I decided I wanted to play for a highly competitive team. I took the initiative in the summer to develop my skills and set goals for myself knowing that if I was able to accomplish them, I would be able to make a high-performance team. That same summer I explored beach volleyball and competed in a few tournaments. I learned that I enjoyed playing both indoor and beach and wanted to continue both. When tryouts for 13u came along I was successful and made the Pakmen 13u team. 13u was another great season of competing and I developed a lot of passion for the sport of volleyball. My team placed 21st at Championships in our 13u season and I was awarded the OVA Award of Excellence.
During the 13u season I started strength training with Reid Hall at the Athlete Matrix. I've been attending the Athlete Matrix for 4 years now. Since then, during the summer months, I put a huge focus on my Strength and Conditioning. It allows me to stay in shape for the upcoming indoor season. During Beach season in 13u I decided to take beach volleyball more seriously. I started Elite beach training with Pakmen. I developed a beach volleyball IQ and participated in more tournaments. I was at the beach almost every weekend competing in tournaments with different partners building stronger bonds and picking up new skills. That summer I participated in beach Championships. The Beach Championships was a great experience. I placed 9th in the province. I strongly believe that the sport of beach volleyball has contributed positively to my indoor game.
In 14u I trained as a left side, I really enjoyed the offensive part of the game, but I found myself more intrigued to serve receive and defense. I shortly realized and decided I wanted to become a libero in the future. I began focusing my skills around the libero position, honing on serve receive, defense and back court leadership. As a team we placed 21st in the province. For my 14u beach season I decided to compete in Nationals in addition to Championships. Again, I practiced with Pakmen in their Beach Elite program. It was a great experience and I would love to do it again. I partnered up with two of my teammates, focusing on building chemistry with them. I really enjoyed this and felt it was a successful season.
In 15u I continued to train as a left side and was given the opportunity to focus on libero training as well. I played Libero at 16u and USA tournaments. In the U.S. the libero gets to serve, which I loved because it's one of my strongest skills. The experience was amazing, and it confirmed that the position of a libero was the perfect choice for me. Due to Covid, our 15u season was cut short, but overall, we had some great accomplishments as a team and finished 5th in the province.
This year 16u I decided it was time for a change, I successfully was offered a position as a libero with the Halton Region Volleyball Club. Halton Region is one of the best Rep Volleyball Clubs in the province; they are known for developing strong female athletes and teams. Unfortunately, due to Covid our season has not officially begun. Luckily, we have been able to train and practice. Practices have been intense and with the high caliber athletes on my team I am already seeing improvement in my skills and competitive mindset. I am hopeful and excited that we will be able to play this year
2021 Team Ontario Indoor 
Team Ontario Red
Training Camp at Niagara College 
2021 Halton Region Volleyball Club
17U high performance team
Trained Libero
Pakmen Volleyball Club
13U – 15U club member
2018 OVA Award of Excellence
Volleyball Canada Centre of Excellence Program
Athlete Matrix by Reid Hall 
4 years strength and conditioning
Bishop P.F. Reding Catholic Secondary School, Milton
Class of 2023
Honors Student 90%
Honour Roll Student
Would like to pursue a degree in KIN or Education
Multi Sport athlete participation: 
Volleyball
Beach Volleyball
Basketball
Cross Country Running
Soccer
Leadership awards and recognition
Ontario Volleyball Association
Madawaska Volleyball Spirit Award
2019 Hustle Award
2018 Spirit Award
Bishop Reding Volleyball Tournament
Volunteer programs and Leadership Roles
volunteer referee at my local public school
Mississauga Food Bank volunteer
Team Captain Junior High School Volleyball Team
Instagram: jadaweir_volleyball
2019 Ontario Volleyball Season
15U Primary passer
Jersey #21 
I have had the pleasure of being Jada's strength and conditioning coach for the past four years. She is a very focused and coachable athlete. She comes to each session ready to listen and improve. 
Her speed, agility, and body control is very good! 
The thing that I think is Jada's greatest asset is her ability to get other athletes to work harder. She does this by leading by example. The athletes see how hard she is working and how focused she is and the culture of the training session improves.
Jada over the course of the past few years has taken large steps in her development as a self-motivated athlete and I am consistently impressed with her internal work ethic that pushes her to become a highlevel athlete and well-rounded individual. Jada is someone who can be trusted to act responsible without direction and hold herself to a high standard when it comes to treating everyone she encounters, not just teammates and coaches with respect and courtesy. Jada acts with the utmost integrity in any situation she is put in and is trusted to represent any programs values on and off the court. Jada holds herself to such high standard that impacts the players around her and motivates them to become better athletes. She accepts challenges and steps willingly without question into any role we ask her. Jada's positive attitude and drive to lead impacts and pushes her teammates around her to be better themselves. Over these past couple years, I have had the pleasure of watching Jada grow into an athlete with a bright future ahead of her. Her determination and work ethic are something that has allowed her to be successful thus far in her career. The qualities she is demonstrating now are ones that any good coach would look for in an athlete and leader on their team. She is an impressive young woman who will continue to succeed in all aspects her life moving forward and will be an asset to any post secondary program she attends.
Will understand each and every athlete to ensure your recruiting experience is enjoyable and relaxing.
Regular online meetings offering support with updates about your recruiting profile.
Will provide full email and phone support during the recruiting process.
Professional athletic resume to be provided.
Professional 2-3 minute video created with your raw footage.
Will pre-screen in order to work with Canadian,  United States and overseas coaches.
BONUS - Will personally come and watch you play within a 150km radius of our home base.