Isabella
6'3.5″ Middle Blocker – Class of 2023
U20 Volleyball Canada (NEP)
Six Pack indoor volleyball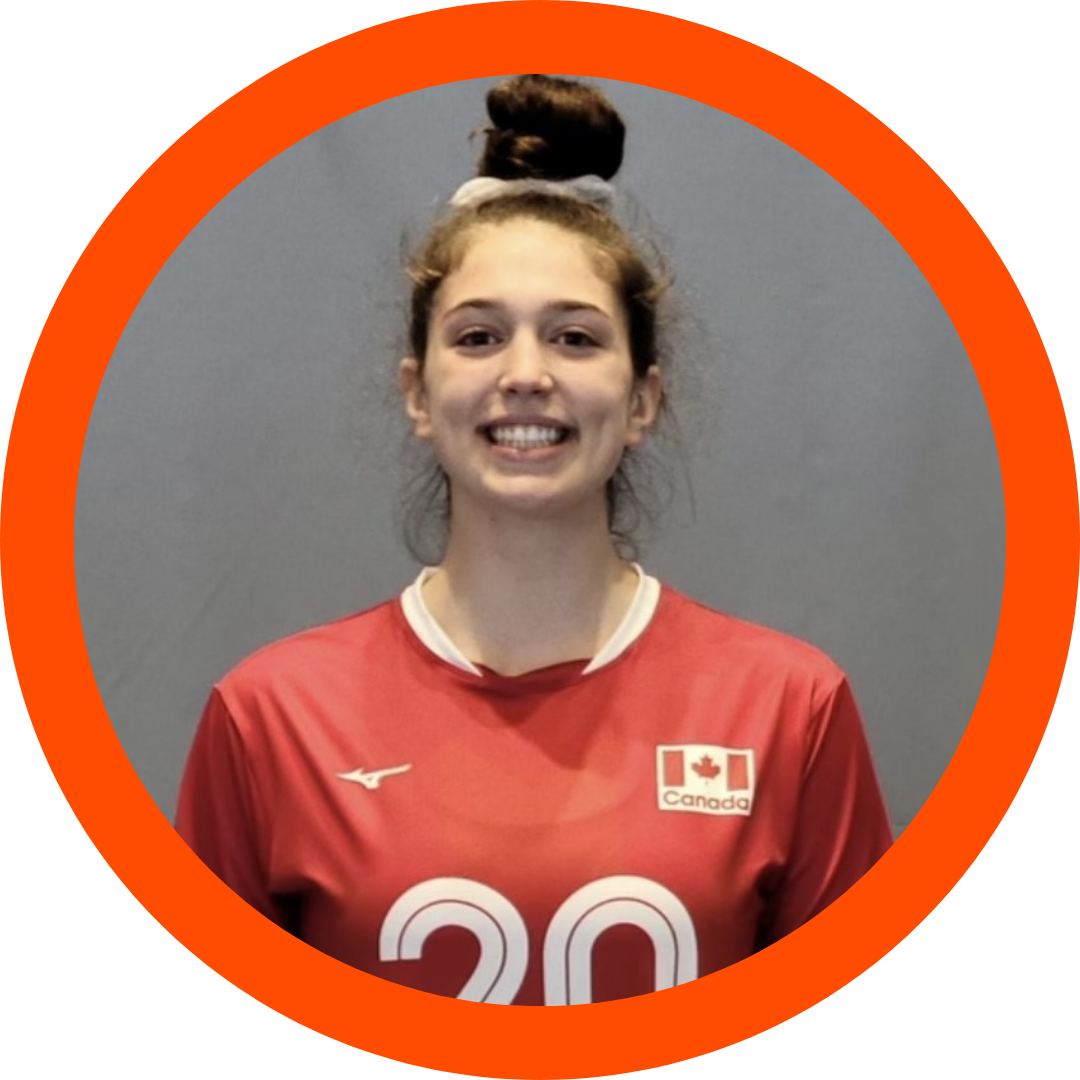 Height: 6'3.5″
Spike: 10'3″
Block: 9'7″
Standing Reach: 8'0.5″
Right Handed
Tournament Schedule to be released in December
My name is Isabella Tehrani and I am a 6' 3.5" Middle Blocker/ Outside Hitter graduating class of 2023. I play for the Halton Hurricanes U16 in Burlington, Ontario, Canada and I am also a member of the Provincial Team Ontario Black U18. I was selected in April 2021 to be a member of Volleyball Canada's National Excellence  Program (NEP). At the club level my team placed 6th provincially at U14 in 2018/19 and I was selected for the Team Ontario Regional Team. The following year my team placed 4th provincially at U15 and placed 7th in U16 upper age group. Last year I also played for my high school's Senior Volleyball and Basketball teams. My school basketball team won the provincial title and I was the only freshman on both teams (school population 2,250). Sadly, due to COVID-19 restrictions and current school closures, my school board is not currently allowing any sports teams and club tournament play is on hold due to Provincial restrictions in place.  
As a student athlete I take pride in working hard both athletically and academically. As an athlete I am intense and focused. I thrive on competition and my team can count on me to have a big blocks and powerful attacks. Regardless of the score, I will fight for every point and encourage my team at every opportunity. My team mates would confirm that I am constantly communicating and have a positive winning outlook despite any adversity faced.  I am a very dynamic player with fast footwork and quick reflexes. Off the court I am the biggest cheerleader for my teammates and get as excited for their success on a big play, or hit, as if I was on the court myself.  I have also played school, club and provincial level basketball for 12 years. I played on Team Ontario U14 basketball team and was a starter on the gold medal 2018 Ontario Summer Games basketball team. My basketball background has allowed me to translate those court skills to volleyball allowing me to have fast footwork and explosive movements. Playing basketball has allowed me to further develop my Volleyball IQ and translate basketballs on court physical play to power in hitting and blocking. Basketball also helped me develop good body positional and movement awareness and quick decisions like where to attack the ball or where to place my body on defense. I am very positive encouraging teammate who is willing to do anything to help my team succeed in a game, during practice, or cheering them on.
Up until 2019 I was primarily focused on playing basketball and even this year was selected for Canada Basketball Women's High Performance U16/U17 program and played volleyball as my 2nd sport. Last year I decided to focus on volleyball as I am intensely passionate about it ever since starting to play in 2015. Always looking to expand my skills I have had beach volleyball training and played in tournaments at every opportunity. Though I prefer the indoor game, I continue to improve my beach play to help improve my all-around skills. I am determined and motivated to continue to play volleyball at a highly competitive level and my goal is to be a starting player at a post-secondary school level. Beyond just playing volleyball as an athlete, I am keen to give back to the sport that I am so passionate about. The past two summers I have volunteered as an instructor for the Mountain Volleyball Program coaching younger athletes. I am currently pursing my NCCP Level 1 certification and only have the in-class portion to complete – which has also sadly also been delayed due to COVID.
Academically I am just as focussed on my studies as I am on my volleyball development. Being a busy athlete means I have to be organized and manage my time efficiently to also succeed academically. I am currently four courses ahead in my studies and have started taking Grade 12 courses. My GPA to-date is 93% and I especially enjoy my mathematics, science, and language courses. The strength of the academic program at the post-secondary school I choose to attend will be as equally important as their volleyball program.
Below is a summary of my accomplishments:
Team Ontario U15 Summer Games Regional Basketball Gold (2018)
Team Ontario U14 Regional Volleyball Team (2019)
Team Ontario U14 Provincial Basketball Team (2019)
Team Ontario U18 Provincial Volleyball Team (2020)
Team Canada U16/U17 High Performance Basketball (2020)
Volleyball Canada – National Excellence Program  (NEP) 2021
St. Thomas More Senior Girls Basket Team (2019)
 -HWCDSB Gold Medal Champions
 -GHAC Gold Medal Champions
-Ontario Provincial Gold Champions
St. Thomas More Senior Girls Volleyball Team (2019)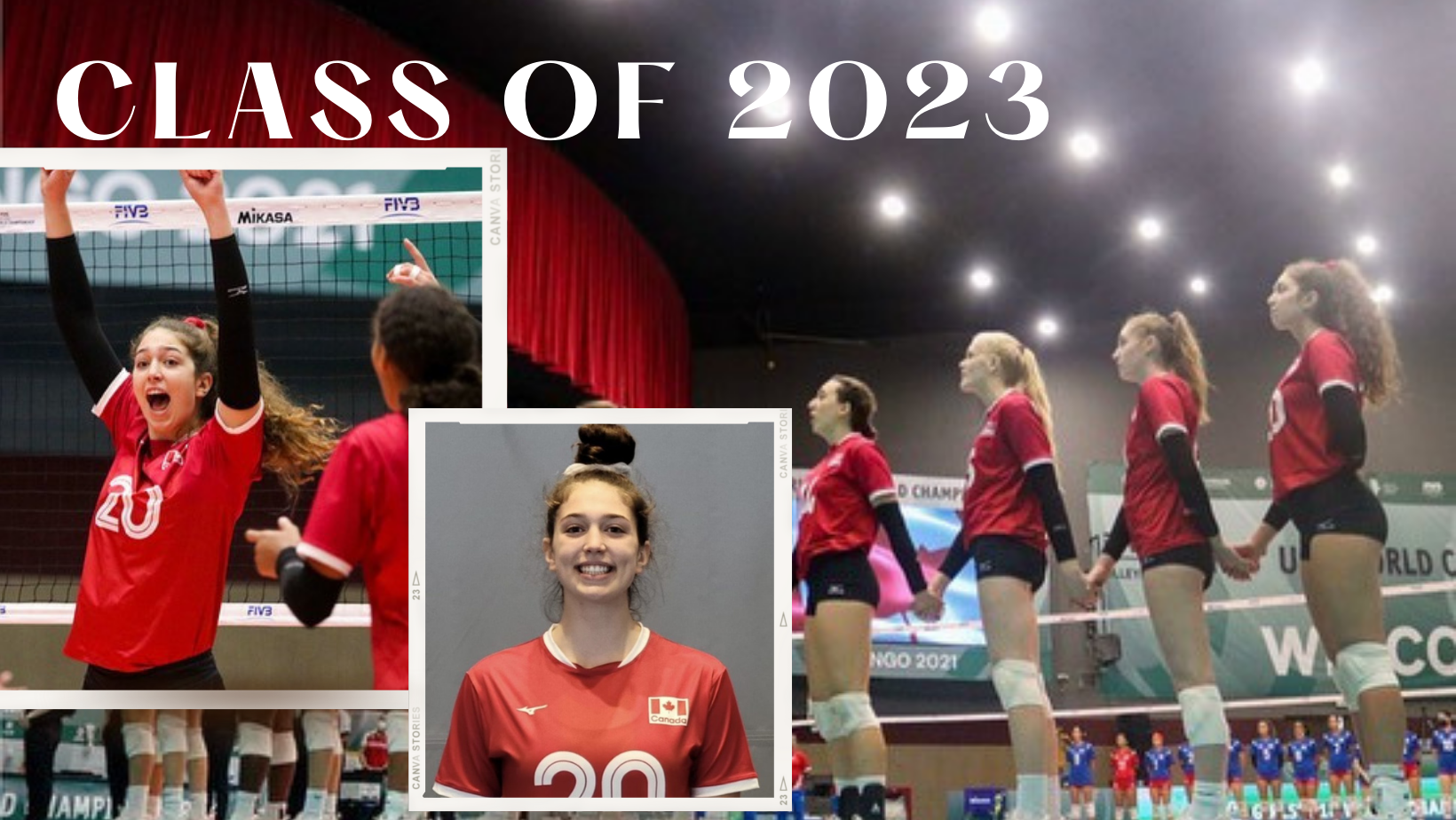 Volleyball Canada High Performance Programs
U20 World Championships Volleyball  (2021)
Volleyball Canada National Excellence Program (2021)
Vancouver, BC
Identified as top 16 U18 athlete in the country 
Team Ontario Canada Summer Games ( U19) Athlete (2022)
2020-2021 Team Ontario Elite (18U) Athlete
2020 Team Ontario Black (18U) Athlete
Other Awards and Recognition:
2021 National Basketball Team
selected for Team Canada U16/U17
2019 OFSAA (Provincial) AAA High School Basketball – Gold
2019 GHAC (Regional) High School Basketball – Gold
2019 Team Ontario Basketball 14U Athlete
2018 Ontario Summer Games Basketball – Gold
St. Jean de Brebeuf Catholic Secondary School
4.3 GPA
Honour Roll Student
Eligible for early graduation 2022
Would like to pursue a degree in Health Science
Multi Sport athlete and participation: 
Volleyball
Beach Volleyball
Basketball 
Instagram: @isabellatehranivolleyball
Will understand each and every athlete to ensure your recruiting experience is enjoyable and relaxing.
Regular online meetings offering support with updates about your recruiting profile.
Will provide full email and phone support during the recruiting process.
Professional athletic resume to be provided.
Professional 2-3 minute video created with your raw footage.
Will pre-screen in order to work with Canadian,  United States and overseas coaches.
BONUS - Will personally come and watch you play within a 150km radius of our home base.