Hannah Gray
Outside Hitter / Opposite Hitter
Class of 2023
Team British Columbia Zones U15
Six Pack indoor volleyball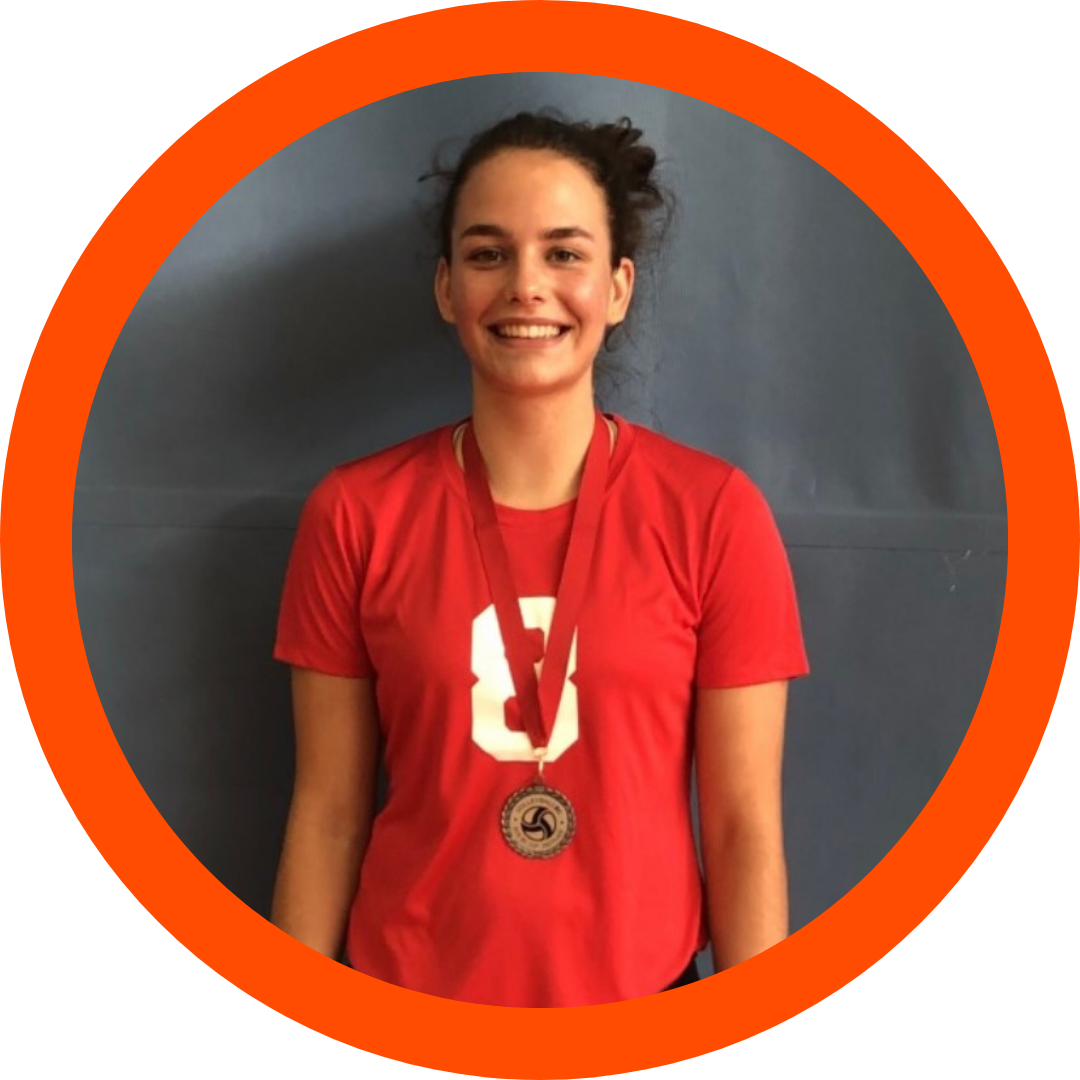 Height – 5'10
Spike – tbd
Block – tbd
Instagram: Hannahvolleyball7
Five words you can use to describe yourself on the court.
Steady
Ambitious
Competitive
Strong
Focused
Five words you can use to describe yourself off the court.
Determined
Level headed
Caring
Goal-orientated
Responsible
Describe how you work in a team with your partners.
Bringing what I can to a team for a common goal and understanding that others have gifts that are fundamental.
Athletic highlights and how you felt when you received them.
My first athletic highlight was my Zone team coming second. When we received that award it was like a smile was on everyone's faces. I was so incredibly proud of my team and how hard we worked, how well we meshed together, and played to the best of our ability.
My second athletic highlight would be my high school team. It was a tough season having five girls quit.  Even though we were down to seven, we didn't let that stop us. It was almost like we had this new found confidence within ourselves. Our mental game was on, we suddenly weren't scared to play if we were down by three or four. It was a new determination for us to win.
Involvement in other sports or extracurricular. Why is it important for you?
For 7 years I was a gymnast, it was important to me because that's where I learned patience, hard work, and strength training can help you become a better person.
What are your interests outside of sports? Why do you like them?
My interests outside of sports are writing, reading, and poetry. I love to read because when I am, it's like I'm in a whole new world, experiencing life as someone else. Becoming invested in a book is something that I strive for. Writing is something that I've always liked, but never really thought of it as a hobby until last year. It's important to me, because I believe that was when I knew I wanted to become an English teacher. In order to be able to teach someone about something, you have to be passionate. Lastly, poetry was a way that I could put my feelings down on a piece of paper, and only I could really understand it. Whenever I was stressed or anxious poetry and volleyball was like an outlet for me.
Who are your role models and why?
Ms. Nerbus was my English teacher and she is the reason why I want to teach. She is compassionate and cared about her students, which makes going to class all the better. She made a difference in others lives and that's what I want to do one day.
My second role model would be my grandpa. He's the type of person that can always crack a joke and will always be there for you. We're incredibly close and I've always looked up to him, wanting to be just like him.
Academic highlights and how you felt when you received them.
When I received honour roll, all G's work ethic, and the principles list I felt accomplished and proud. I realized that all the hard work that I've put into my assignments and classes paid off.  That's when I knew working hard pays off.
What program would you like to attend in school?
I would like to be an English teacher, so I believe a Bachelor of Arts and a teaching degree.
How do you envision your school life in college/university?
I envision it to be about making memories, friends, and enjoying my classes so that I can become a teacher. Also to be hectic and busy but it would be worth the challenge
2020 Volleyball Schedule:
DUE TO COVID-19 ALL TOURNAMENTS POSTPONED 
Outside Hitter / Opposite Hitter
2021 UBCO Jr Heat Volleyball Club
2020 West Kelowna Thunder Volleyball Club
Provincial Silver medalist 2017
2017 – 2020
Team British Columbia Zones U15
Volleyball British Columbia
Level 1 Referee Certification 2020
Mount Boucherie Secondary
Honour Roll Student
Principal List
Work Ethic of Distinction award
Multi Sport Athlete
Volleyball – AAAA BC Provincial Bronze Medalist 
Beach Volleyball
Basketball
Field Hockey
Pickle Ball
Gymnastics
Track and Field

100 meter sprint
Triple Jump
Long Jump
Discuss
4 x 100 Relay
October 31, 2021
3rd place finish
Team BC Training Camp
June 2021
Practice Video 
March 2021 
Skill showcase April 2021
November 2019
Training Video
Hannah is one of the most versatile athletes I've had the pleasure of coaching. She is a complete player who has consistently displayed a balance of skill and physical strength in the front row and the back row. She has always excelled to better her conditioning. She has clearly demonstrated that she is an adaptable thinker and has proven herself to respond to a multitude of scenarios with her pre-positioning and follow through on her attack. Hannah. has quick lateral motion in the back court and typically will position herself with proper technique to dig and pass with very high quality ball contact.  She also has one of the best service ace/error ratios I have seen with her jump float serve.  With the proper training she could increase her rating with her speed and agility. She is incredibly coachable and her determination to succeed (on and off the court) has outweighed most athletes I have coached in my lifetime. 
Vancouver Open Beach Volleyball event
18U Silver medal finish
Will understand each and every athlete to ensure your recruiting experience is enjoyable and relaxing.
Regular online meetings offering support with updates about your recruiting profile.
Will provide full email and phone support during the recruiting process.
Professional athletic resume to be provided.
Professional 2-3 minute video created with your raw footage.
Will pre-screen in order to work with Canadian,  United States and overseas coaches.
BONUS - Will personally come and watch you play within a 150km radius of our home base.