Ella M.
Setter
Class of 2023
2021 Team Ontario Indoor
Six Pack indoor Volleyball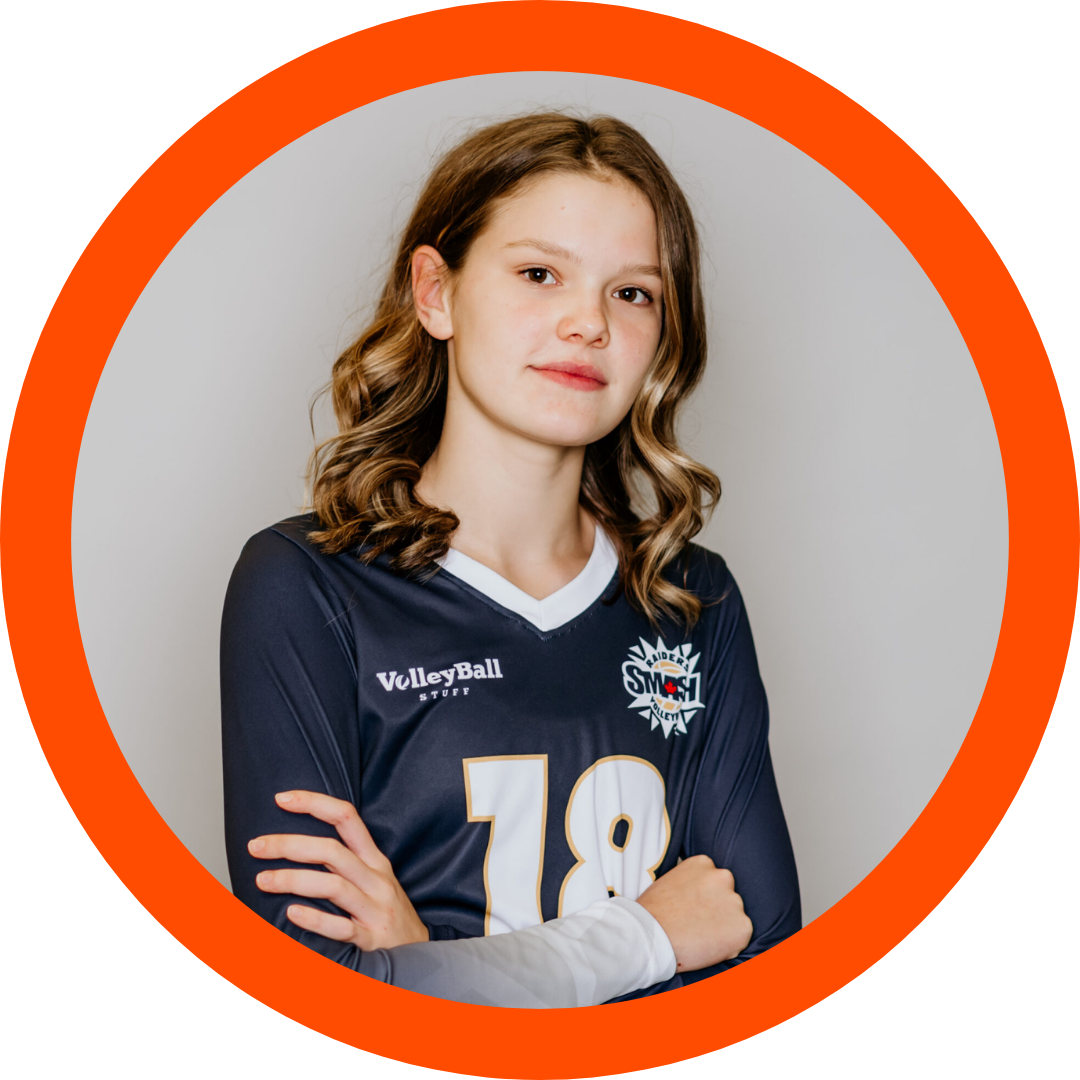 Height: 5'9″
Spike: 9'6″
Block: 9'1.5″ 
Standing Reach: 7'7″ 
Due to Covid-19 all tournaments have been postponed 
Five words you can use to describe yourself on the court:
Focused
Enthusiastic
Fast
Supportive
Hard Working
Five words you can use to describe yourself off the court:
Optimistic
Kind
Dedicated
Creative
Passionate
Describe how you work in a team with your partners.
I work well with my teammates and enjoy taking a leadership role.
Athletic highlights and how you felt when you received them. 
I was MVP of my team last year and team Captain.  Even though it was a tough year playing on the B team, I was given the chance to work on my leadership skills and develop skills that were important off the court.
I had an opportunity to compete at the Ontario Summer Games.  I was able to battle through an injury and enjoyed the excitement of a multi sport competition
Team Ontario Regional program gave me confidence both on and off the court so I saw myself develop in a well rounded player
Who are your role models and why?
Scottie Pippen is one of my favourite role models because he always was such a hard worker and stood up for himself, took care of his family and most importantly he did not need the spotlight to succeed.
Academic highlights and how you felt when you received them. 
Winning the French award in Junior High school
Taking a Grade 9 Math credit in Grade 8
Published twice in Grade 7 for a short story and a drawing*
*I was chosen out of hundreds kids to be published because my story was one of the best. The story was about a group of kids who try to find the main child's parents that went missing. The story was based off of an art piece.
What program would you like to study in school?
I would like to study Biology as I am interested in Sport Medicine
How do you envision your school life in college/university?
I envision myself as being hard working, self motivated, driven to meet my goals and very busy but loving every minute of it!
2020 Volleyball Schedule:
DUE TO COVID-19 ALL TOURNAMENTS POSTPONED 
My love for volleyball started in grade 4 when a friend asked me to try out for the school team with her. I made the school team and started practicing daily, going to camps over holidays, and playing house league. That year we won the City Championships for our division (2014). I played for my school every year they had a team (only three years) and we won city championships twice. I started playing rep volleyball for Mountain Volleyball Club (MVC) on an 11U team, playing up in 12U. At this time I also began to run provincial track for Stoney Creek Athletics and Monte Cristo Track Club. As a sprinter, I ran 200m and shorter. I also ran in the 4×100 relays, which we constantly medaled in. Balancing track and volleyball was always hard and both sports took a toll on my body. Eventually, I gave up one sport to benefit my health and I chose track to focus on volleyball in 2019. 
In 14U you start to specialize in a position and I have always been a setter, my secondary position being a right side. My last year at MVC, I played on the second team. There I was voted captain and never left the court.  In that year, I benefited tremendously as I gained much needed confidence in my game and found my voice becoming a leader of the team. I stayed at MVC for four years until I decided to switch for 15U. 
In 15U, I switched clubs and came to Smash Raiders Volleyball Club (SRVC). I played as the starting setter and devoted many hours to improving my overall game.. I am known to be a driven athlete and am constantly in the gym putting in the work. With Covid19 cutting our season short, we finished ranked 7th in the province. During quarantine I stayed active doing workouts that were provided by my club as well as a workout program specifically made for me and did lots of grass training until we could move back inside. I have stayed at SRVC again this year and was voted co-captain. This year I also practiced with the 18U team at my club, for every practice and scrimmage they had. Although we have not played much, I am still the starting setter on my team (or starting right side as we run a 6-2). Covid has changed the way the season looks this year but I am improving and having loads of fun. I can not wait to see where my volleyball career takes me!
2021 Team Ontario Red 
Training Camp at Niagara College
2020 Team Ontario Academy 
2019 Team Ontario Regional Program
Region 3
University of Guelph training camp and tournament
Smash Raiders Volleyball Club  
Starting setter
Rank 7th (OVA)
3 year member
2021 OVA Award of Excellence
High School sports and participation: 
Varsity Volleyball
Varsity Touch Football
Track and Field
Westmount Secondary School
Class of 2023
3.67 GPA
Honour Roll student
French award recipient in Grade 8
Literary work published in Grade 8
Instagram: volleyball.mcvittie
Will understand each and every athlete to ensure your recruiting experience is enjoyable and relaxing.
Regular online meetings offering support with updates about your recruiting profile.
Will provide full email and phone support during the recruiting process.
Professional athletic resume to be provided.
Professional 2-3 minute video created with your raw footage.
Will pre-screen in order to work with Canadian,  United States and overseas coaches.
BONUS - Will personally come and watch you play within a 150km radius of our home base.