Ella Howell
Setter / Outside Hitter
Class of 2023
Six Pack indoor volleyball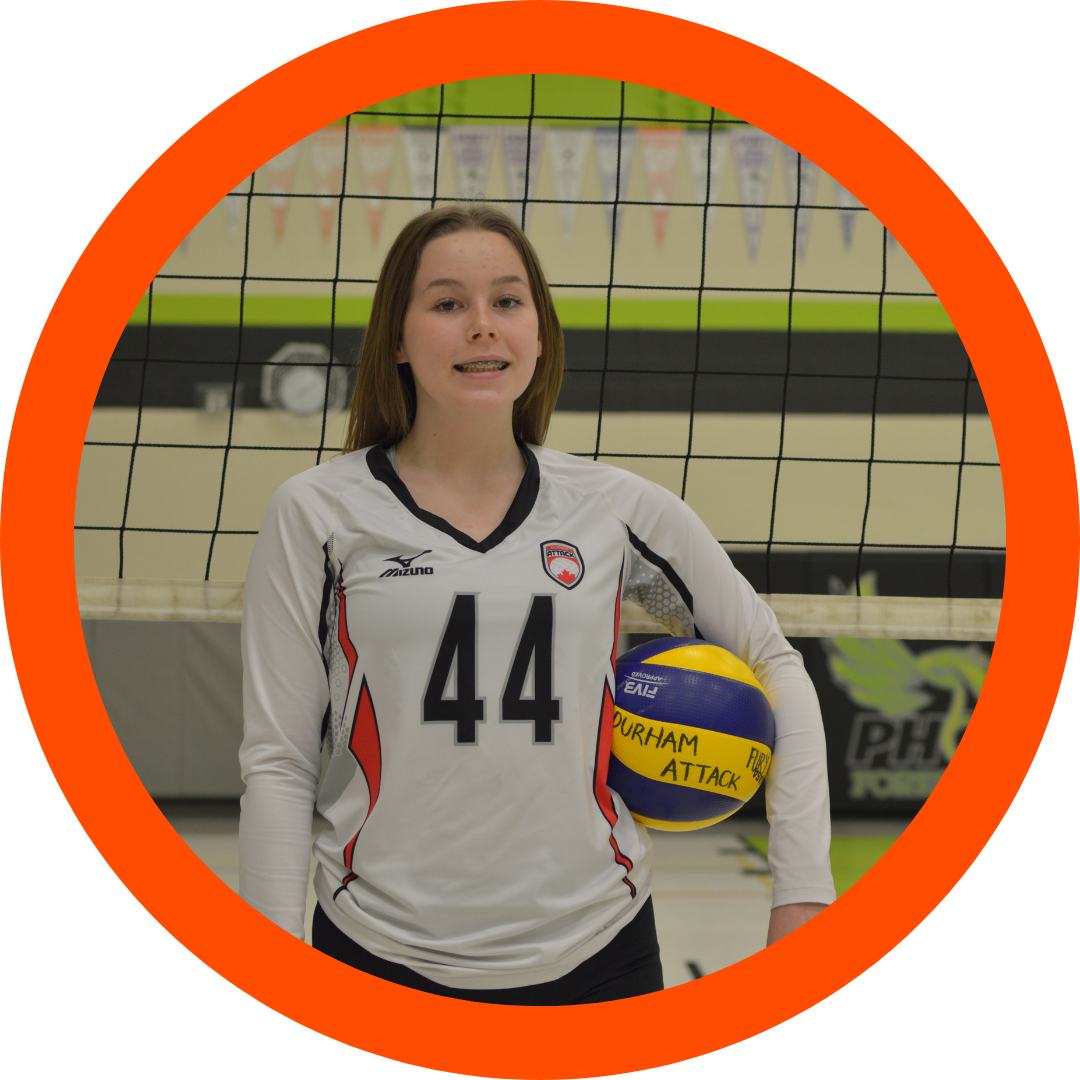 Height: 5'8″
Spike: 8'9″
Block: 8'2″
Reach: 7'3″
Wingspan: TBD
Serve Velocity: TBD
Five words you can use to describe yourself on the court.
Positive
Energetic
Motivated
Cheerful
Hard-working.
Five words you can use to describe yourself off the court.
Creative
Reliable
Honest
Patient
Organized             
Describe how you work in a team with your partners.
I work in a team with my partners by communicating and supporting them and listening and applying constructive criticism that is given to me.
Athletic highlights and how you felt when you received them.
My athletic highlights are all the medals my team got, it made me feel proud of myself as well as of my team for our accomplishments.
What are your interests outside of sports? Why do you like them?
My interests outside of sports are spending time with friends & family, baking and listening to music. I like them because they are all a positive aspect in my life that I look forward to doing.
Who are your role models and why? 
My parents are my role models because I look up to them and they always support me in the decisions I make, while guiding me in what I choose.
Academic highlights and how you felt when you received them
My academic highlights are achieving honour roll grades 8,9 & 10, I felt very happy with myself because I worked hard to achieve the marks I received.
What program would you like to attend in school?
I would like to go to school for psychology.
How do you envision your school life in college/university?
I envision my school life being a student athlete playing for my school's volleyball team, making new friends, studying psychology and having fun while doing it.
Ontario Provincial Championships 14U – Gold Medalist
Ontario Provincial Championships 13U – Gold Medalist
Father Leo J Austin Catholic Secondary School, Whitby, Ontario
Would like to pursue a degree in psychology
Class of 2023
GPA: 3.75
Grade 10 Honour Roll
Grade 10 Austin Angel Kindness Award
Grade 9 Honour Roll
I feel that teams would be lucky to have me on their team because I am hard working and reliable, not just at game time, but also in my physical and mental preparation. I am very passionate about volleyball, very competitive and want to win, not just for me, but for my team, my coaches and all who support us. I also love to have fun with my friends and teammates on and off the court.
I feel I will be an asset on any team because I am motivated and will bring my strong work ethic and my eagerness to learn everyday. I will continue to challenge myself to improve my skills and help others to improve theirs. I love going to the gym, not just at game time but practices too and will always bring positive cheerful attitude. -Ella Howell
Clubs and Program Involvement
Durham Attack Volleyball Club
18U Durham Attack (2022)
Playing up an age group
Outside hitter
Setter
12U select – 18U Club
7 year member
2019 – 14U Ontario Provincial Championships – Gold
2018 – 13U Ontario Provincial Championships – Gold
2019 – 2022 Father Leo J Austin Catholic Secondary School
2019-2020 – Grade 9
2020-2021 – Grade 10 – Cancelled due to Covid-19
2021-2022 – Grade 11 – Varsity volleyball postponed
Indoor:
2020 – Volleyball Canada Regional Excellence Program
2019 – Scarborough Titans High Performance Summer Program
2019 – Waterloo Warriors High Performance Camp
2019 – Team Ontario Regional Program
Most Valuable Tournament Awards
Gold Medalist at 14U Ontario Provincial Championships
Gold Medalist at 13U Ontario Provincial Championships
Leadership Roles and Volunteerism:
Durham Attack Volleyball Club Mentoring Program; mentoring younger female club athletes
Durham Attack Volleyball Club Coachettes Program; empowering girls to coach
Instagram: @ellavolleyball44
Will understand each and every athlete to ensure your recruiting experience is enjoyable and relaxing.
Regular online meetings offering support with updates about your recruiting profile.
Will provide full email and phone support during the recruiting process.
Professional athletic resume to be provided.
Professional 2-3 minute video created with your raw footage.
Will pre-screen in order to work with Canadian,  United States and overseas coaches.
BONUS - Will personally come and watch you play within a 150km radius of our home base.