BRIANNE W.
Defender
Class of 2023
2021 Team Ontario Beach
Canadian National Champion
Six Pack Beach Volleyball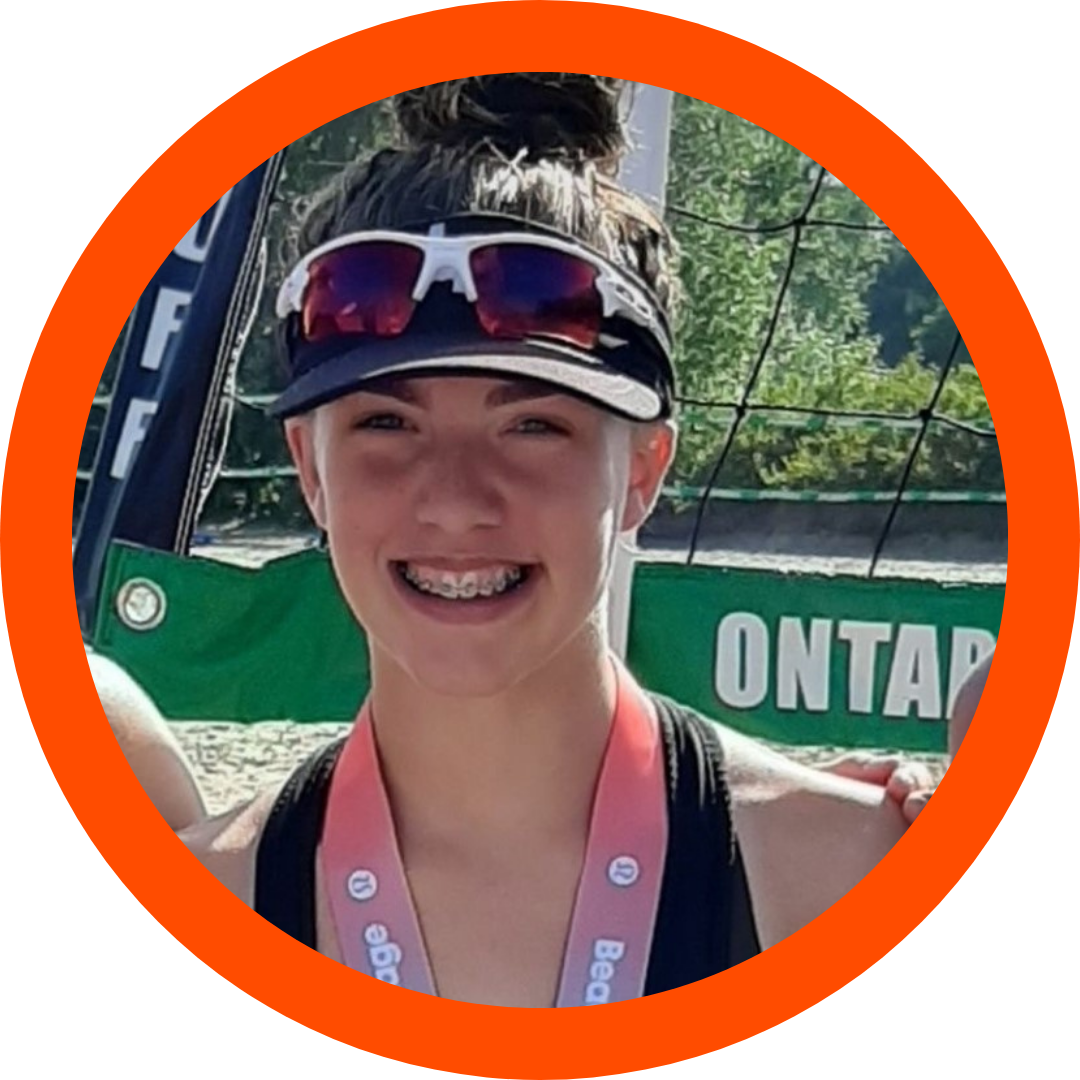 Height: 5'8″
Vertical:31″
DUE TO COVID – TOURNAMENT PLAY  POSTPONED FOR NOW
Five words you can use to describe yourself on the court.
Focused
Competitive
Aggressive
Fearless
Driven
Five words you can use to describe yourself off the court.
Funny
Cooperative
Easy Going
Modest
Poised
Describe how you work in a team with your partners.
I keep a positive attitude which is especially important when the game is not going our way. I encourage my teammates/ partner by reassuring them that we are in this together.
Athletic highlights and how you felt when you received them.
Winning Provincials 3x (2X Beach, 1x Indoor), Winning Nationals (Beach), winning BVNE tournament (California)
During the games that are outlined above, I was left with extreme emotions, I was a whole bunch of things;
Excited
Proud
Accomplished
What are your interests outside of sports? Why do you like them?
I love to spend time with my family and friends. I also love to constantly redecorate my room and play with my dog
Who are your role models and why?
Volleyball Canada's Beach Athlete and Olympian, Heather Bansley because I feel we play the same way. We are the same size and both play fiercely
Involvement in other sports or extracurricular. Why is it important for you?
I am typically a joiner of all sports. Throughout grade school I played;
Basketball
Volleyball
Football
Soccer
Cross Country
I also played AAA Baseball Competitive
Academic highlights and how you felt when you received them?
Grade 8 Honor Roll – Accomplished
Grade 8 Citizenship Award – Humbled
Highschool Honor Roll – Relieved
What program would you like to attend in school?
I'm leaning towards a Business Degree
How do you envision your school life in college/university?
I envision myself remaining accomplished throughout my school life, whether it be in the classroom, or on the court. I look forward to taking in the whole University experience by making new lifetime friends. Maintaining a well-rounded balance of school, sport and life is the goal.
My volleyball career started in 12U both on the court and in the sand. On the court every year I have been named team captain, either chosen by my teammates or coaches. I have led my team to the Provincial championships three times, winning the provincial title once and coming third once. We then took our talents to the National Championships where we came home with a silver as the second best team in Canada. On the sand, I have won either a Provincial or National title every year I have played and done it in multiple age groups. I have been recognized and selected by Team Ontario Beach, becoming a team member in 2020. I was selected to represent Canada in 2020 at the International Children's Games in Kecskemet Hungary, but due to Covid-19 the games were cancelled. My passion is on the beach and I feel my best years of beach volleyball are still ahead of me.
I have accomplished a lot in my short volleyball career while accomplishing and maintaining honors in my academics. I have taken my drive and determination to be the best on the court and brought my competitiveness into the classroom.
2019
GOLD at 14U Division 1 Tier 1 Nationals (National Champion)
 GOLD at 14U Premier Event X2 – OVA Beach Tour Tournaments
GOLD at 15U Premier Event X2 – OVA Beach Tour Tournaments
Gold at BVNE Kauai Bikini Tournament – California
2018
10th at US Nationals in the 15U division as a 13 year old
GOLD at 13U Premier Provincials – Beach Volleyball (from 45 teams)
GOLD at 14U Premier Sunshine Event (June) – OVA Beach Tour 
GOLD at 13U Premier Sunshine Event X2 – OVA Beach Tour 
2017
1st at 12U Premier Provincials (30 teams)
2nd in 13U Premier Provincials (73 teams)
Won GOLD at 7 OVA Tour tournaments
Team Ontario Beach
2021 Team Ontario Beach High Performance Team
2019 Canadian National Championships
Gold medalist 14U D1T1
Reigning champion
2020 BVNE / Sixpackrecruiting International Event 
2020 International Event – Toronto, Ontario Canada
2019 BVNE Kauai Bikini Tournament 
2019 Gold Medalist – California
14U Event
Westmount Secondary School
Class of 2023
Honours student
Interested in pursuing a degree in Business followed by Interior Design
Mountain Volleyball Club
2 year club member
Outside / Defensive Specialist
Hamilton Smash Volleyball Club
3 year club member
12U – 14U athlete
Awards and recognition High School
Junior Girls Volleyball MVP
Junior Girls All-around Athlete of the Year
Awards and Recognition Club
2018 OVA Award of Excellence
2017 OVA Award of Excellence
Multi Sport athlete and participation: 
Volleyball
Basketball
Baseball
Beach Volleyball
Soccer
Instagram: @Brianne.whalen
Brianne's willingness to go after every ball does not go unnoticed by her teammates and she will work as hard in a simple drill as she will in playing for a Provincial Championship. At least once a practice she will leave me shaking my head and saying a simple "Wow" as she somehow digs up a ball that seemed undiggable.
Her coachability and willingness to learn is second to none. Perhaps most impressive is the way she has adopted her style of attacking. At the beginning of her volleyball odyssey she was purely about power but as the net has got higher and the block bigger, she has worked diligently to have a full arsenal of shots and is unafraid to use them at any point.
She is one of the few players on a volleyball court talented enough that can turn it on and off and still win and yet she never ever turns it off. She plays without excuses and works equally hard on all areas of her game.
We were extremely fortunate she chose to play indoor for our team and I feel whatever college/university she chooses to attend will be equally lucky to have her.
I have had the pleasure of working with Brianne for the past summer. Our competition schedule was cut short due to Covid 19 so most of our time was spent together training. Brianne is constantly striving for perfection and ways to improve her game. She reads the play well on defence and has a quick and explosive first step that allows her to get to balls on defense. Brianne is very stable in serve receive which allows her to use her great vision when shot making. She also possesses some put away power to take advantage of opportunities when her opponents decide to peel off the net. Brianne has the ability to both hand and bumpset and excels in transition setting. She is also starting to learn how to use the wind to her advantage in all aspects of the game including from the service line.
Although there were not many competition events there were three events that she competed in and she won all of them. It was remarkable that although she was at the 15u age level she was beating players who were at the 18u level. Some of these athletes are D 1 volleyball athletes who have committed to an NCAA program already. The most impressive piece for me was that aftercompeting all day and playing and winning 6 matches, Brianne and her partner showed up bright in early the next day to work hard and continue to improve. That type of desire and determination is quite frankly something you can't teach, and it occurred on more than one occasion this past summer. Brianne will be an asset to whatever beach volleyball program that is lucky enough to sign her.
Will understand each and every athlete to ensure your recruiting experience is enjoyable and relaxing.
Regular online meetings offering support with updates about your recruiting profile.
Will provide full email and phone support during the recruiting process.
Professional athletic resume to be provided.
Professional 2-3 minute video created with your raw footage.
Will pre-screen in order to work with Canadian,  United States and overseas coaches.
BONUS - Will personally come and watch you play within a 150km radius of our home base.