BREA DE SOUZA
Outside Hitter
Class of 2023
Six Pack indoor volleyball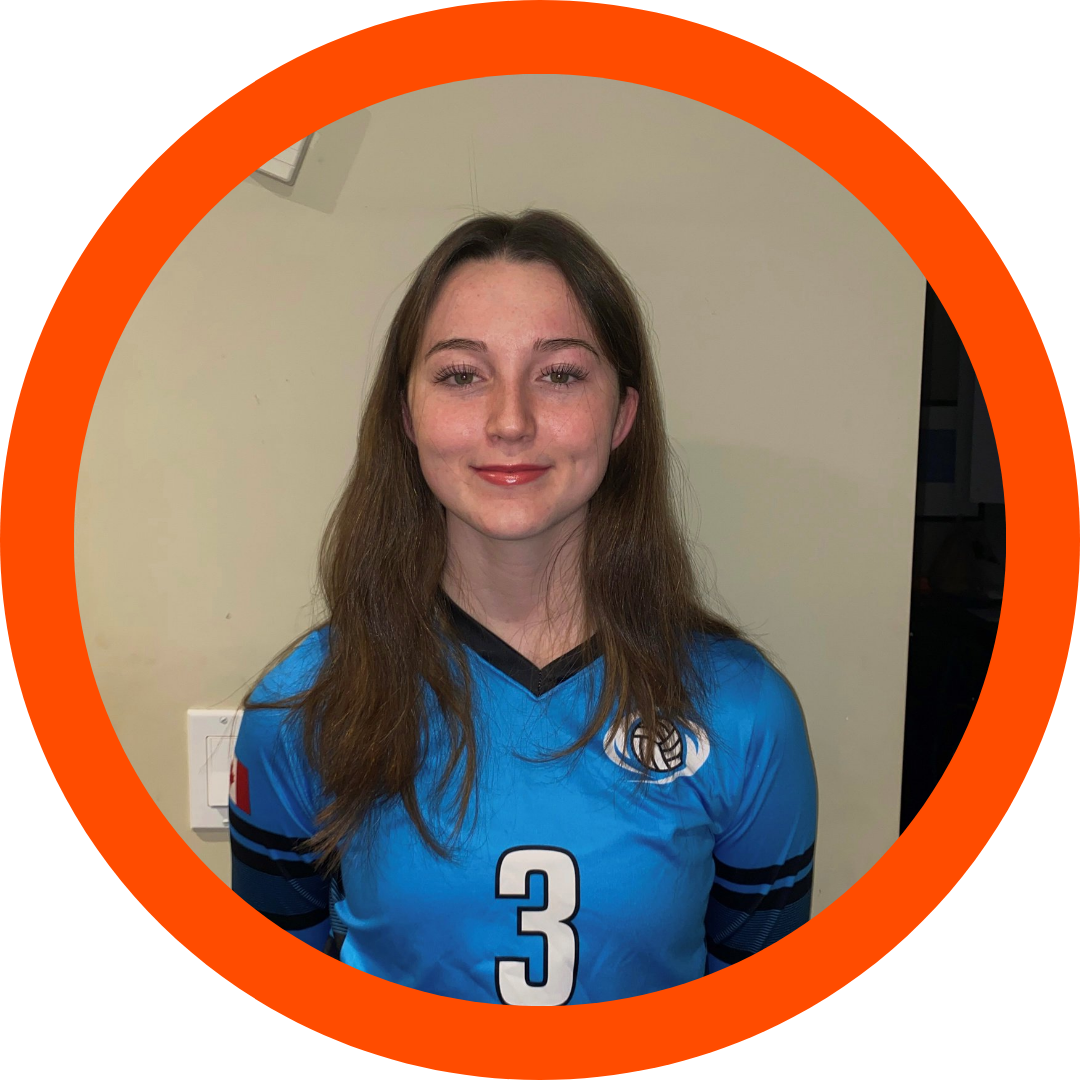 Height: 5'11"
Spike: 9'6″
Block: 9'1″
Reach: 7'7″
Wingspan: 6'0
Other testing: 5-10-5 (running) = 5.7 seconds
5 words I can use to describe me on the court
Energetic
Confident
calm
collected
Hussle
5 words I can use to describe myself off the court
Hype
Loud
Supportive
Respectful
Engaged
Describe how I work in a team with my partners
I support the people around me just like they support me I have been told countless times I bring energy and drive for others on the court. I truly do enjoy making other people play better on the court and watching us take a lead in a game when we are all flowing well and hyping each other up.
Athlete of the year
– honoured, I felt as though I was appreciated by my teammates and that made me feel very special and deserving and gave me a drive to play harder for them.
Captain for a winning nationals year
Responsibility, I liked the pressure it brought me I usually play better under stress and can support people around me better when I feel as though it is my job. being named captain the year we won nationals improved my leadership immensely.
Involvement in other sports? Extra curricular?
I played rep field hockey for 4 years and I played up on a 16u team when I was 11 I truly enjoyed it but I chose volleyball because I mixed with it better it was more of a team sport and challenged me more which is why I loved it. I also played basketball and won mvp in my grade 8 year, I stopped playing because I wanted to put all my energy into volleyball and become the best player I could.
Interest outside of sports?
I enjoy math, and business, and arts I am a good drawer it helps me learn how to concentrate I enjoy math because it challenges me a lot and I love solving really tough equations, business is where my heart is at because I love talking numbers and debating.
Who are my role models
Michael Jordan
I aspire to compete and play with the passion he did, I want to lead and have the drive he did I listen to some of his quotes or re peat when u workout because of how motivational he is. I want to work as hard as he did and play as hard as he did and inspire everybody around him just with a look like he did.
academics highlights
I've received the honorary roll ever year in high school. I am obviously appreciative for receiving this but when it comes to academics I always strive to do better and push myself more for better grades.
What program for school
Either business or law
How do I envision university for me
I hope to grow as and athlete and person I want to mature through the experiences I will get in university pass physical goals and just improve myself as a whole. I want to learn how to have a balance life with good grades and breaking athletic boundaries.
TA Blakelock High School, Oakville, Ontario.
Would like to pursue a degree in… 
Class of 2023
Received Honour Roll in Grade 9, Grade 10 and Grade 11
I am a very motivated person; I do things for the betterment of my team and not only myself. I consider myself a leader and I am able to make hard decisions when it comes down to it. I am very loud on the court and hold myself and others accountable. I workout very often trying to better myself for the sport I play, and I focus on what can make me a better player to the team everyday. – Brea De Souza
Clubs and Program Involvement
2017 – 2022 Halton Hurricanes Volleyball Club
Outside hitter
5 year member
13U – 17U
Category 7
Team Captain 14U season (last season to play due to Covid-19)
2016 Oakville Thunder Volleyball Club
Indoor:
14U Nationals – placed 1st
Has been playing high school volleyball for 8 years
Most Valuable Tournament Awards
14U Nationals – placed 1st
Leadership Roles and Volunteerism
Volunteered at sailing camp for 3 years
Team captain for 14U season
Multi Sport athlete and participation: 
Volleyball
Field Hockey

Played for 3 years until decision to focus solely on volleyball
Instagram: @brea_volleyball_
Will understand each and every athlete to ensure your recruiting experience is enjoyable and relaxing.
Regular online meetings offering support with updates about your recruiting profile.
Will provide full email and phone support during the recruiting process.
Professional athletic resume to be provided.
Professional 2-3 minute video created with your raw footage.
Will pre-screen in order to work with Canadian,  United States and overseas coaches.
BONUS - Will personally come and watch you play within a 150km radius of our home base.