AVA R.
Setter
Class of 2023
NCAA #  xxx-xxx-5294
Six Pack indoor Volleyball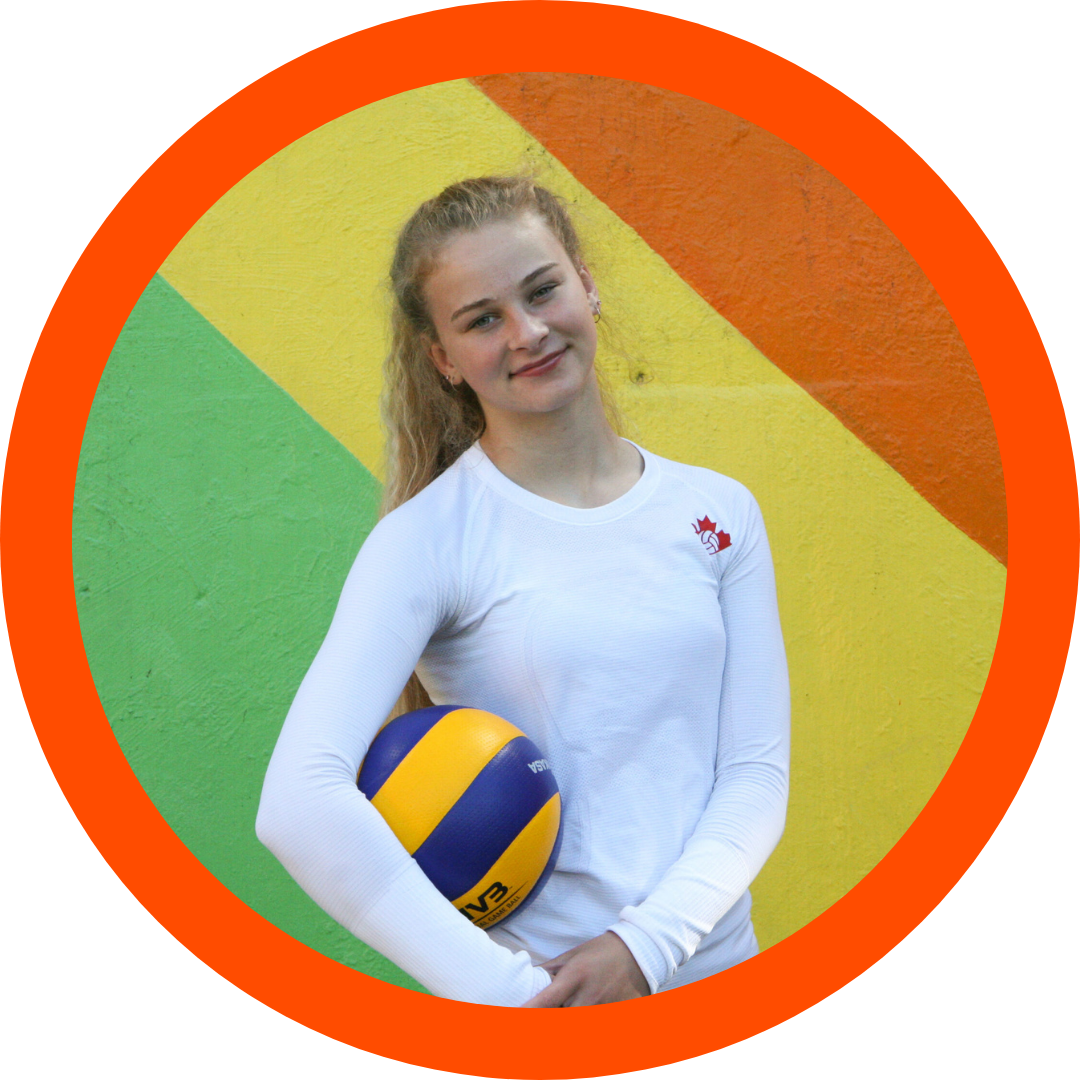 Height: 5'11"
Spike: tbd
Block: tbd
Five words you can use to describe yourself on the court.
Positive
Happy
Hardworking
Supportive
Energetic
Five words you can use to describe yourself off the court.
Positive
Supportive
Intense
Cheer leader
enthusiastic
Describe how you work in a team with your partners.
Encourage everyone with support and positivity. Give and receive feedback with appreciation and grace.
Athletic highlights and how you felt when you received them.
When my team mates voted me as co-team captain I felt respected and worthy. They thought of me as a leader and a good person and I took that role very seriously.
When I won the bronze medal in 12U, we were the B team, the underdogs and that proved your mind set and heart can accomplish anything if you believe in yourself and your team. Anything is possible. Same feeling happened in 15U when we won 4th place overall.
Involvement in other sports or extracurricular. Why is it important for you?
I love softball because it teaches you different things and gets you playing another sport and it's really fun.
What are your interests outside of sports? Why do you like them?
I love art and baking. Art and baking are so different but similar in allowing you to be creative. You can escape the world for a little while and dive into something delicious or beautiful.
Who are your role models and why?
My uncle Jeff is a double arm amputee since he was 11 years old. He has accomplished so much in life and I look up to him. He is a world record holding Paralympics athlete and has encouraged and taught me to set a goal and overcome anything that gets in the way of it with hard work and determination.
Academic highlights and how you felt when you received them.
I never knew I was capable of getting on the honour roll. When I moved schools in grade 7 something clicked and I wanted to do better and be better. I work hard for my marks and handwork pays off.  My goal is to be on head honour roll before I graduate.
What program would you like to attend in school?
Hospitality and Tourism
Minor in Spanish
How do you envision your school life in college/university?
I envision myself representing my University on campus and on the volleyball court with a good balance of academics and athletics. I look forward to having an instant family or community with my team mates. I look forward to being a part of a team and working out and playing hard. I want the entire experience.
2020 Volleyball Schedule:
DUE TO COVID-19 ALL TOURNAMENTS POSTPONED 
I think tenacious is a good word to describe me. I was a late bloomer and as a setter there were some disappointments along the way. I started out a 4 foot nothin' 12U player and today I am 5'11" and still growing (doctor confirmed..lol) and stronger than ever.
I knew I would grow, my coach joked with me at how big my feet were and so were my hands so we knew my time would come.
I worked hard, trained hard and was always told I was the hardest working player on the team and that inspired me to keep pushing.
It wasn't until my 15 and 16U years that two of my coaches who believed in me and saw my potential helped me figure out how to reach my goals. They said I had to transform my body and become stronger. So I set my mind to it and began strength training. I worked hard during Covid quarantine which gave me the time and energy to focus on my body and strength. I came back to tryouts this year with even more confidence and determination.
I went to a warm up clinic with Reach volleyball club where the coach won coach of the year last year, he's a setter specialist and my friend plays on one of his teams and told me he's the best coach she's ever had. So I took a chance and played my heart out and was offered the starting setter position on Reach Matrix 18U. It's humbling and gratifying that another reputable coach sees my potential and determination and is willing to invest in me and help me be the best setter I can be.
The volleyball world can be tough but I've taken all the rough times over the years and put a positive spin on them and it made me push myself and reach higher, work harder, keep positive and know positive things will happen. I've learned when one door closes another better one always opens. I will never quit, I will never give up my dreams of earning a scholarship at a top university in the U.S. or Canada and one day play on the Canadian National Team or have an opportunity to play internationally.
Stay tuned!!
Reach Matrix 18U 2020
Trained Setter
OVA Athletic Excellence Award
OVA 4th place finish
Blue Devils Track and Field Club
200m and 400m sprinter
Cross Country – region top 10
Hope For Mexico 
Family founded charity supporting impoverished kids in Mexico to have access to clean and safe schools with running water and proper bathroom facilities
We provide school supplies, musical instruments and even supporting building shelters around the school
Our belief is 'education is the key to allow these kids a place to feel safe and off the streets and away from crime'
Bayview Glen Independent School, Toronto`
Honors Student 3.3/4.0 GPA
Principles List and Honor Roll Student
Would like to pursue a degree in International Business minor in Spanish 
Hospitality and tourism with a goal of owning her own hotel
High School sports and participation: 
Volleyball
Softball
Swimming
Track and field
Inner Squad 
December 2020
December 2020
Intersquad scrimmage 
Class of 2023 
Ontario Volleyball Association
February 2020 
I had the opportunity to coach Ava for her 15U and 16U years. I could tell from our early sessions together that she was different. She has tremendous hands and an unmatched desire to work.
She has a head for the game and early on we were talking about the game from a tactical perspective on a level of someone many years her senior.
She understands where her areas for improvement are and does not shy away from those – she instead chooses to attack them. She grinds. She perseveres where others might relent.
In my time with her she never stopped seeking to understand the "why" behind all things sport and non-sport related. It was this curiosity that makes her continuously strive to get better.
She's a fantastic young woman with ambitious goals in volleyball – the difference with Ava is she has shown the willingness to put in the work. She understands "what got you here won't get you there" and is always working towards her "there".
Adam Simac
– Phoenix legacy 15u/16u coach 2018-2020
– Team Canada men u21 assistant coach 2017-2019
– Team Canada Indoor athlete 2008-2016
Will understand each and every athlete to ensure your recruiting experience is enjoyable and relaxing.
Regular online meetings offering support with updates about your recruiting profile.
Will provide full email and phone support during the recruiting process.
Professional athletic resume to be provided.
Professional 2-3 minute video created with your raw footage.
Will pre-screen in order to work with Canadian,  United States and overseas coaches.
BONUS - Will personally come and watch you play within a 150km radius of our home base.