AVA H.
 Libero / Trained Setter
Class of 2023
Six Pack indoor volleyball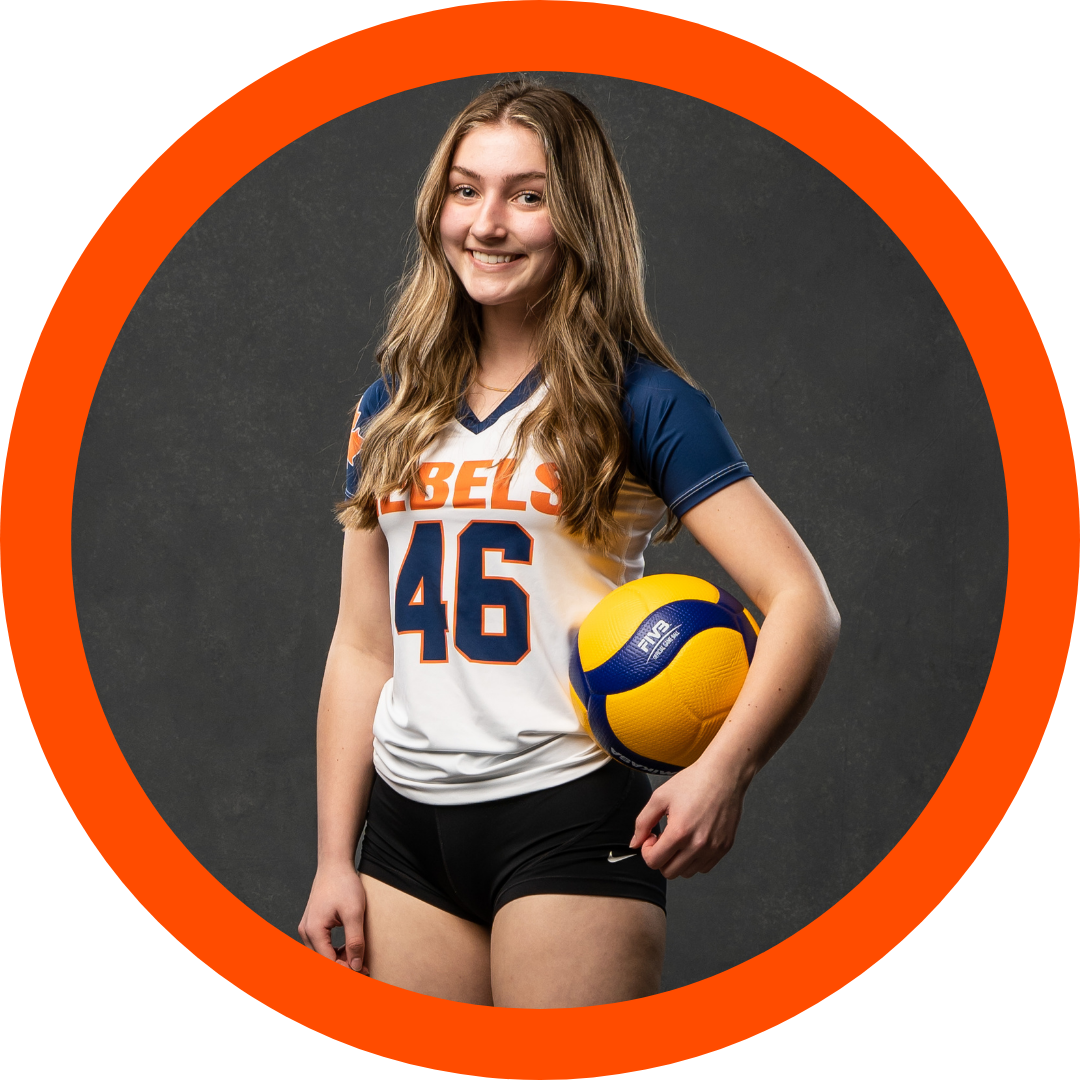 Height: 5'6″
4 corner shuffle: 9.49 secs
Five words you can use to describe yourself on the court.
Determined
Focused
Happy
Leader
Confident
Five words you can use to describe yourself off the court.
Fun
Active
Social
Caring
Creative
Describe how you work in a team with your partners.
I am willing to listen to all of the views of others and am supportive of other perspectives. I will take control in a team environment if the situation requires it.
Athletic highlights and how you felt when you received them.
Winning gold medals with my team is always a highlight. I always feel excited and so proud of myself and my entire team.
I was also very proud when I won the leadership award for my team. I was honoured that the coaches chose me for my ability to keep our team on track while still making everyone laugh.
Involvement in other sports or extracurricular. Why is it important for you?
I am an avid skier. I love being outdoors and doing something active with my friends and family. I loved skiing competitively and now get excited helping younger skiers learn skills to become better recreational or competitive skiers.
I also help at volleyball camps in the summer. Not only does this let me keep my own skills sharp but also lets me give something back to a sport that I love.
What are your interests outside of sports? Why do you like them?
I have recently discovered a love of painting and love that it allows me to be creative in what I choose to paint and how I choose to paint it.
I also am an avid music fan and love all types of music. I create different playlists that we play on the way to practice or tournaments to get me ready to play!
Who are your role models and why?
My role model is Kelly Stiles who was my teacher and volleyball coach in elementary school. She introduced me to volleyball in grade 4 and called my parents to encourage them to let me try out for Club as she saw something special in me. Kelly was a student athlete, played while at University and is now giving back to the sport by coaching at the Club level and introducing kids to volleyball in the school system. Kelly is amazing!!
Academic highlights and how you felt when you received them.
I received Honour Roll at my graduation from elementary school and was able to maintain this and receive Honour Roll in Grade 9 also. I am very proud of the hard work and dedication that I put into my academics.
What program would you like to attend in school?
Although I am not quite sure just yet, I'm confident at the end of this year I will have a better idea of programs I'm interested in.
How do you envision your school life in college/university?
I envision myself being focused on athletic and academic achievements. I look forward to meeting great teammates who I will play volleyball with and study with. I can't wait!
2020 Volleyball Schedule:
DUE TO COVID-19 ALL TOURNAMENTS POSTPONED 
I started playing volleyball on school teams in Grade 4 (2014). I was the only Grade 4 who made the team that year so that was pretty special! I started playing indoor club in 2016 on a U12 team. I have played indoor Club every year since then and have always made the top competitive team in my age group each year. In 2017 we started positional play and I started focusing my training on becoming a great setter. Since then I have always been on the starting line up as a setter until this year. When I was a setter our coaches and team also relied on me for my serving. Almost every set that I played I was the starting serve and was known to sometimes go on long serving runs and serve 10 or more points in a row.
This year I am playing U16 and under Ontario rules we are now allowed to have a dedicated Libero on our team. I was contacted by a number of teams during the summer to play as their setter or Libero. I chose to switch positions and start honing my skills as a Libero for a number of reasons. I always loved playing defence when I was given the opportunity at practices. I also have been told by a few coaches that despite being a setter (which I was then!), I am also the best passer on our team. And finally, Libero allows me to play defence while still being able to set when the need arises since I can set from back row.
2020 Durham Rebels Volleyball Club
2021 OVA Award of Excellence
2016 – 2020 Durham Attack Volleyball Club
trained setter
2020 Ontario Volleyball Award of Excellence
2019 Team Captain
2019 Team Leadership award
2018 Ontario Volleyball Award of Excellence recognition
2018 Team Captain
2017 Ontario Volleyball Award of Excellence recognition
Ontario Championships 
2018 – 7th place finish D1T1
2017 – 7th place finish D1T1
Ontario Volleyball Association
2019 Team Ontario Regional Team
2019 Regional Team Silver Medalist Summer Games
Leadership and Volunteer
2021 OVA Award of Excellence
Team Leadership award and Captain
Award of Excellence (
Volunteer Ski Instructor
Vollenteer Camp Instructor/ counsellor
Ajax High School
Class of 2023
2020 Honour Roll student
93% or 3.9/4.0 GPA
Multi sport athlete and participation: 
Volleyball
Downhill skier – Level 1 Instructor
Soccer
Tennis
Swimming
Competitive Figure Skater
Instagram: ava.volleyball46
Intersquad scrimmage 
September 2021
#46
'Ava has a special personality because of her ability to lead our team by her
sportsmanship and unconditional love for her teammates.  Ava has the
personality to make any coach smile.  She is a talented athlete and did an
amazing job this season adapting to the role of setter on our team.  Ava
stood out at tryouts because of her jump spin serve and her willingness to go
for every ball.  Ava improved her athletic skills this season, strengthened her
confidence, and became a true leader on our team.
Will understand each and every athlete to ensure your recruiting experience is enjoyable and relaxing.
Regular online meetings offering support with updates about your recruiting profile.
Will provide full email and phone support during the recruiting process.
Professional athletic resume to be provided.
Professional 2-3 minute video created with your raw footage.
Will pre-screen in order to work with Canadian,  United States and overseas coaches.
BONUS - Will personally come and watch you play within a 150km radius of our home base.