Anna Marie Horvat
2022 Team Ontario
Left handed Opposite Hitter
Class of 2023
NCAA # xxx-xxx-xxxx
Six Pack indoor volleyball
Discipline for Recruitment: Indoor
Height: 6'1″
Spike Touch: 9'10"
Block Touch: 9'2″
Standing Reach: 7'3″
2021 Defensa Volleyball Club:
- Opposite Hitter
- 5 year member on Defensa's top team for my age (purple)

2020 Defensa Volleyball:
- Defensa Purple Team
- No season due to Covid

Ontario Volleyball Association:
2021 Team Ontario Black - Provincial Team
Opposite Hitter
Training Camp & Competition

Volleyball:
Senior Team (2021-2022):
-Semi-Final finish
- Played as a outside, middle and opposite player
- Was awarded one of the Halton All-Stars
Senior Team (2020-2021):
- No season due to Covid
Senior Team (2019-2020):
- Played as a middle in the Senior team Halton finals as a freshman
Junior Team (2019-2020):
- Played as a middle
- Won silver in the Halton Finals

Assumption Catholic Secondary School:
- Burlington, Ontario
- Class of 2023
- 86% average (2019-2020 school year & 2021-2022)
- 92% average (2020-2021)
- Received Honor Roll all three years of highschool
Subject awards of Merit:
- Grade 10 Phys Ed - Volleyball (2020-2021)
- Grade 10 Math (2020-2021)
I am hoping to Major in Geography and Minor in French to become a teacher in University.

Award of Excellence (M.V.P) - Defensa Volleyball (2021-2022)
Halton All-Star Award - School (2021-2022)
Heart & Hustle Club Award (2019-2020)

Student Council:
Grade 9 Representative ( 2019-2020)
Grade 10 Representative (2020-2021)
Grade 11 Representative (2021-2022)
Grade 12 General Member (2022-2023)
Athletic Council:
General Member (2021-2022)
Student Ambassador/Peer Tutoring (2021-2022)
- Helped score keep/do lines for the boys volleyball games at school (2019-2020 & 2021-2022)
- Camp counsellor (2018-2019)
- Banquet Hall server (2017 - present)
Five words you can use to describe yourself on the court.
– Dedicated
– Disciplined
– Competitive
– Loud
– Assertive
Five words you can use to describe yourself off the court.
– Organized
– Empathetic
– Trustworthy
– Extroverted
– Hardworking
Describe how you work in a team with your partners.
I work very well in a team. I feel most at home when I am with my team not only because they are excellent players but also because of the amazing connections and friendships I have created with them. I feel that every player contributes to the success of our team regardless of playing time and talent. I always make sure that I form strong connections with my coaches and teammates on and off the court. So that while we are playing we know that we can rely and lean on each other when things get tough. I am a very loud, competitive and honest teammate so that the girls know they can lean on me for support and energy when needed. Whether it is on or off the court I try my best to take on a leadership role; I am able to do this because I am empathetic, dedicated and outgoing. I always try my best to lead by example to show everyone that I can consistently be a team player and athlete that my team can count on. I always follow up constructive criticism with a positive thought so that my team can have open and honest communication with each other. I am always open to receiving feedback from not only my coaches but also my teammates so that I can continue to get better and implement new things while playing. I always make sure to tell my teammates some sort of information that is valuable before the play starts whether it be what I'm blocking or something as simple as whether the setter is front row or not. After a game I always take time to reflect and speak with my coaches on what went well but also what I can improve on for my team but also myself individually. I believe honest and reliable communication is the best way to create an amazing team environment and is a key factor for success in any team.
Athletic highlights and how you felt when you received them:
– Selected to be apart of the Team Ontario Black Program (2021-2022)
– 4th Place National Finish (2021-2022)
– 5th Place Provincial Finish (2021-2022)
– National Excellence Program I.D. Camp Invitation (2021-2022)
– 5th Place Provincial Finish; season cut short due to Covid (2019-2021)
– Division 1 tier 2 bronze medalist (2018-2019)
– Halton Silver medalist; school volleyball (2019-2020)
Each time I received one of these accomplishments, I was very honored and fortunate to see what my hard work has created and thankful for the support of my family/friends and coaches.
What are your interests outside of sports? Why do you like them?
Outside of volleyball I love to bake, read, go fishing and paddle boarding. Baking is very important to me because it helps me alleviate stress and put my mind to rest while I am doing something I enjoy and stay productive. Reading is one of my favourite pass times because I am able to empathize and escape from reality. Fishing and paddle boarding are very important to me because it allows me to spend quality time with my Dad and to calm my mind while being on the water. I love exploring and doing things outdoors as much as I can, I find that doing these things helps to fuel my curiosity and have helpful stress reliefs at the same time.
Who are your role models and why?
One of my biggest role models is Autumn Bailey. She is a very dedicated, calm and powerful player. I can relate to her on many levels because she went to my high school, played for Defensa Volleyball Club as well and I've actually been able to meet her in the past! Although Autumn isn't the biggest player on the court she finds a way to always be an offensive killer and someone her teammates can rely on when times get tough. I relate to her because I am also someone my teammates go to when we are in a pressure situation; I often find myself being the offensive outlet they can trust while we are under pressure. We both deal with pressure very well and are able to play our game the best we know; no matter what the circumstances. Finally my Mom and Grandpa are some of my biggest role models. My Mom is one of the strongest and most courageous human beings I have ever met. She had to overcome sickness and many hard things in her life, she never gives up and continues to have a smile on her face every day; she always puts others first. My Grandpa was someone I looked up to very often; he was always smiling, laughing and giving to others. I hope to someday always be optimistic, kind and smiley just like he was. My parents are my biggest supporters and inspirations; I have the utmost respect for both of them.
Involvement in other sports or extracurricular. Why is it important for you?
I do a variety of extracurriculars in my school and community. I pride myself on being someone well known and liked in the community. I always try my hardest to be apart of as many things I can to help improve the communities around me. I was apart of five different extracurriculars at my school this year; which helped me to create friendships and connections with not only other students but also teachers I love and respect. I have also been apart of multiple events at my parish in Hamilton, Ontario. I love to camp counsel and be apart of the organizing committees as much as I can to help give back to the church. I believe it is not only important to get good marks and do well in your sport but also to help others and be an available friend to those who need it.
Academic highlights and how you felt when you received them?
I have received multiple awards throughout high school for various subjects as well as maintaining the honour roll title all three years. I continue to study hard and do the best I can receiving a 86% or higher average each year. My parents are both teachers and they have influenced my mindset on how important and fun learning can be if you do your very best.
What program would you like to attend in school?
I hope to continue my learning and become a teacher to help future generations achieve their education goals.
How do you envision your school life in college/university?
I envision my college/university life to be filled with some of the most amazing experiences of my life. Volleyball will play an important role in making those memories. I am excited to become more independent and committed than I am now, and envision myself working harder and more efficiently. I hope to attend a school where I can find a healthy balance between volleyball and academics. I am excited to someday be able to play the sport I love and learn more every day while also being an active and contributing member of my school's campus community. I am eager to make new friends and memories while also exploring a new community and city.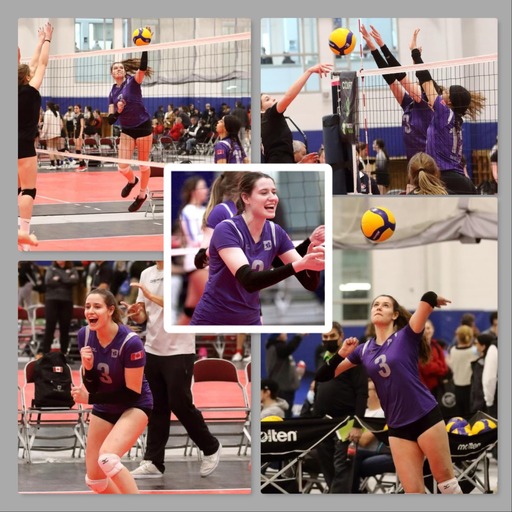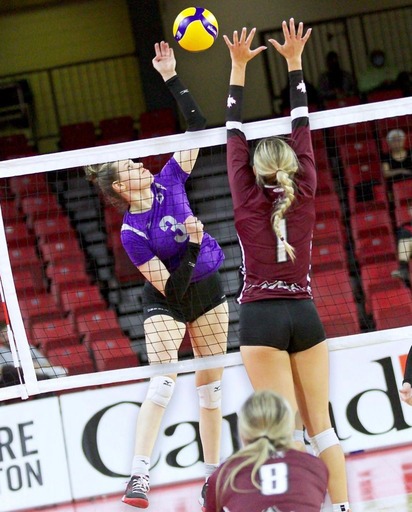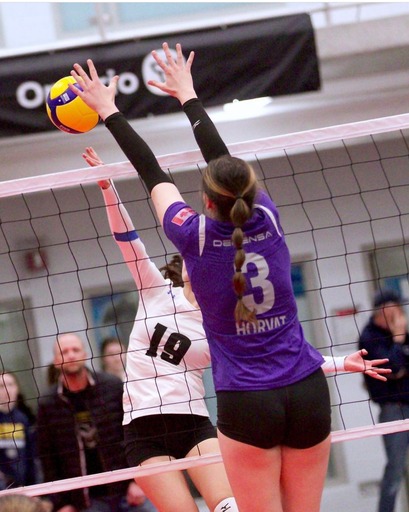 Will understand each and every athlete to ensure your recruiting experience is enjoyable and relaxing.
Regular online meetings offering support with updates about your recruiting profile.
Will provide full email and phone support during the recruiting process.
Professional athletic resume to be provided.
Professional 2-3 minute video created with your raw footage.
Will pre-screen in order to work with Canadian,  United States and overseas coaches.
BONUS - Will personally come and watch you play within a 150km radius of our home base.