Alexandra Roberge
Setter
Class of 2023
Six Pack indoor volleyball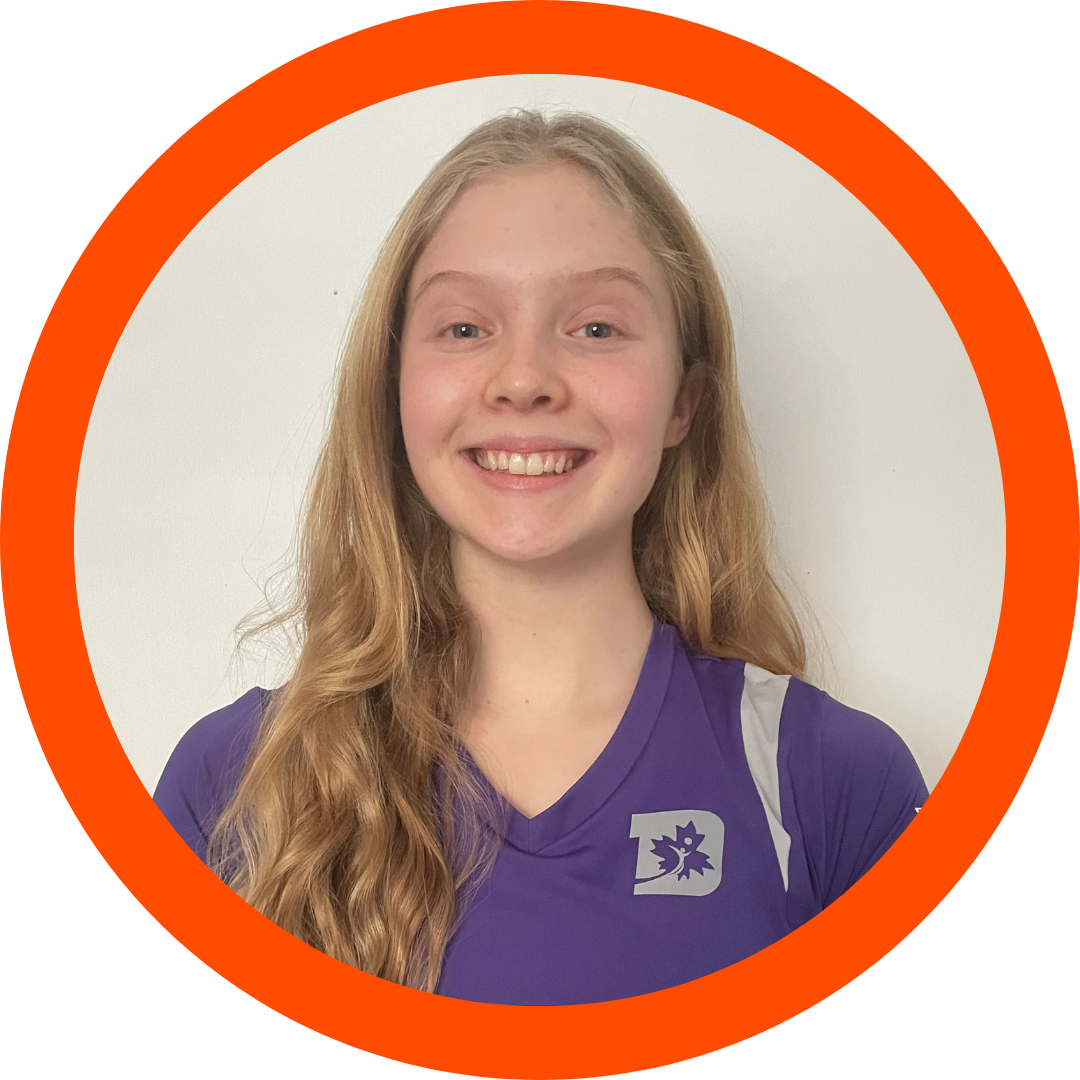 Height: 6'1″
Spike: 9'9″
Block: TBD
Reach: 7'11"
Wingspan: TBD
Speed: 20 yard sprint: 2.89 seconds
École Secondaire Catholique Saint-Jean-de-Brébeuf, Welland, Ontario
Would like to pursue a degree in Education with a background in health and wellness
Class of 2023
Academic average of 95% / 4.0 GPA
Highest class average in Grade 9
Highest class average in Grade 10
Five words you can use to describe yourself on the court.
Competitive
Focused
Supportive
Driven
Coachable
Five words you can use to describe yourself off the court.
Intelligent
Hard working
Reliable
Determined
Funny
Describe how you work in a team with your partners.
On a team, I believe that it's super important to have a relationship with your teammates in order to develop solid team chemistry. With team chemistry, everyone is always included, teammates push others to work harder than last time, everyone keeps a positive attitude and teammates practice collectively to accomplish set goals.
That being said, I work to get to know my teammates in order to play more efficiently together, receive feedback and celebrate each other's successes.
Athletic highlights and how you felt when you received them.
2021 Team Ontario Indoor
2019 OVA Tall Maples Training Camp
2019 OVA Award of Excellence for Niagara Rapids 14u
2019 Female Athlete of the Year Award for school
With every athletic accomplishment, I felt incredibly proud of myself for all of my hard work and dedication put into accomplishing my goals. I'm also very thankful for all of the time and effort my teammates and coaches put into getting better as a team. Each opportunity I have to surround myself with great athletes and coaches act as stepping stones to becoming a better volleyball player, team mate, and overall athlete.
Involvement in other sports or extra-curricular. Why is it important for you?
Involvement in other sports or extra-curricular activities is important to me because it allows me to expand my overall athleticism, knowledge, and introduces me to a variety of new people.
I have played on several sports teams from elementary school to high school, including basketball, badminton, soccer, track and field, cross country, and kin ball. I've also participated in many other sports outside of school since I was young, counting beach volleyball, competitive cheerleading, rowing, gymnastics, and ringette.
For extra-curriculars, I volunteered to be a scorekeeper during multiple school volleyball and basketball tournaments. I was also a referee for little kids' soccer games. Lastly, I've volunteered in a variety of fundraising events, supporting the MS Society, Big Brothers Big Sisters of Niagara, and Ridley College.
What are your interests outside of sports? Why do you like them?
My interests outside of sports include cooking and baking for family and friends, practicing yoga and meditation, working out, going for walks or hikes, camping, and travelling with my family. I love all of my interests because they bring me joy, expose me to new lessons, allow me to discover new adventures, grant me different opportunities of growth, and simply add to who I am.
Who are your role models and why?
My role model would most definitely be my dad. My Dad is the most spontaneous, hardworking and fun person I know. He's always there to support me in whatever I do, to remind me to keep working hard towards my goals, but to also not put so much pressure on myself. He emphasizes that mistakes are how we learn and grow, and that I can't always be perfect. He encourages me to try new things, put myself out of my comfort zone, and to learn to be comfortable being uncomfortable. He consoles me to continue hammering away at accomplishing my dreams.
Academic highlights and how you felt when you received them.
Grade 8 Valedictorian and Highest-class average
Grade 9 Highest class average
Grade 10 Highest class average
When receiving academic awards, I always feel incredibly proud for all of my hard work. I put a lot of time and effort into school and having recognition is always an amazing feeling.
What program would you like to attend in school?
I'm interested in attending a Physical and Health Education or Human Nutrition program. I've always had a passion for health and wellness and would love to have a job in that field.
How do you envision your school life in college/university?
I envision my school life in university to be filled with a ton of amazing experiences. I see myself being part of a competitive volleyball program that pushes me to my greatest potential and introduces me to new, hardworking athletes. I imagine studying a program that I'm passionate about. I'm excited to explore a new community and a different environment.
I'm a hard worker who's committed to achieving my goals. I keep a positive and competitive mindset and value creating relationships with my teammates. -Alexandra Roberge
Clubs and Program Involvement
2021/ 2022 Defensa Volleyball Club
Setter
18U high performance team
playing up an age group
2020 – 2021 Niagara Rapids Volleyball Club
16U
Team Captain
Right side/ middle blocker
Setter training
2019 – 2020 Niagara Rapids Volleyball Club
Team Captain 15U
3 year member of NRVC
2019 Niagara Rapids
14U
Right Side/ Middle Blocker
OVA Award of Excellence recognition
Training  support and recognition
2021 Iron Performance Centre

Homes by Hendricks Athletic Training Grant
work out with NCAA, Usport and professional athletes
Coach Miles and Coach Matrixx lead trainers

2019 Athlete of the Year
Ontario Volleyball Association
2021 Team Ontario Red
2019 Tall Maples Training Camp
training in all indoor positions
beach volleyball training
Multi Sport Athlete
volleyball
beach volleyball
basketball
badminton
track and field
gymnastics
soccer
2019 Athlete of  the Year
Will understand each and every athlete to ensure your recruiting experience is enjoyable and relaxing.
Regular online meetings offering support with updates about your recruiting profile.
Will provide full email and phone support during the recruiting process.
Professional athletic resume to be provided.
Professional 2-3 minute video created with your raw footage.
Will pre-screen in order to work with Canadian,  United States and overseas coaches.
BONUS - Will personally come and watch you play within a 150km radius of our home base.