ALEEZA R.
Setter / Libero
Class of 2022
Six Pack indoor Volleyball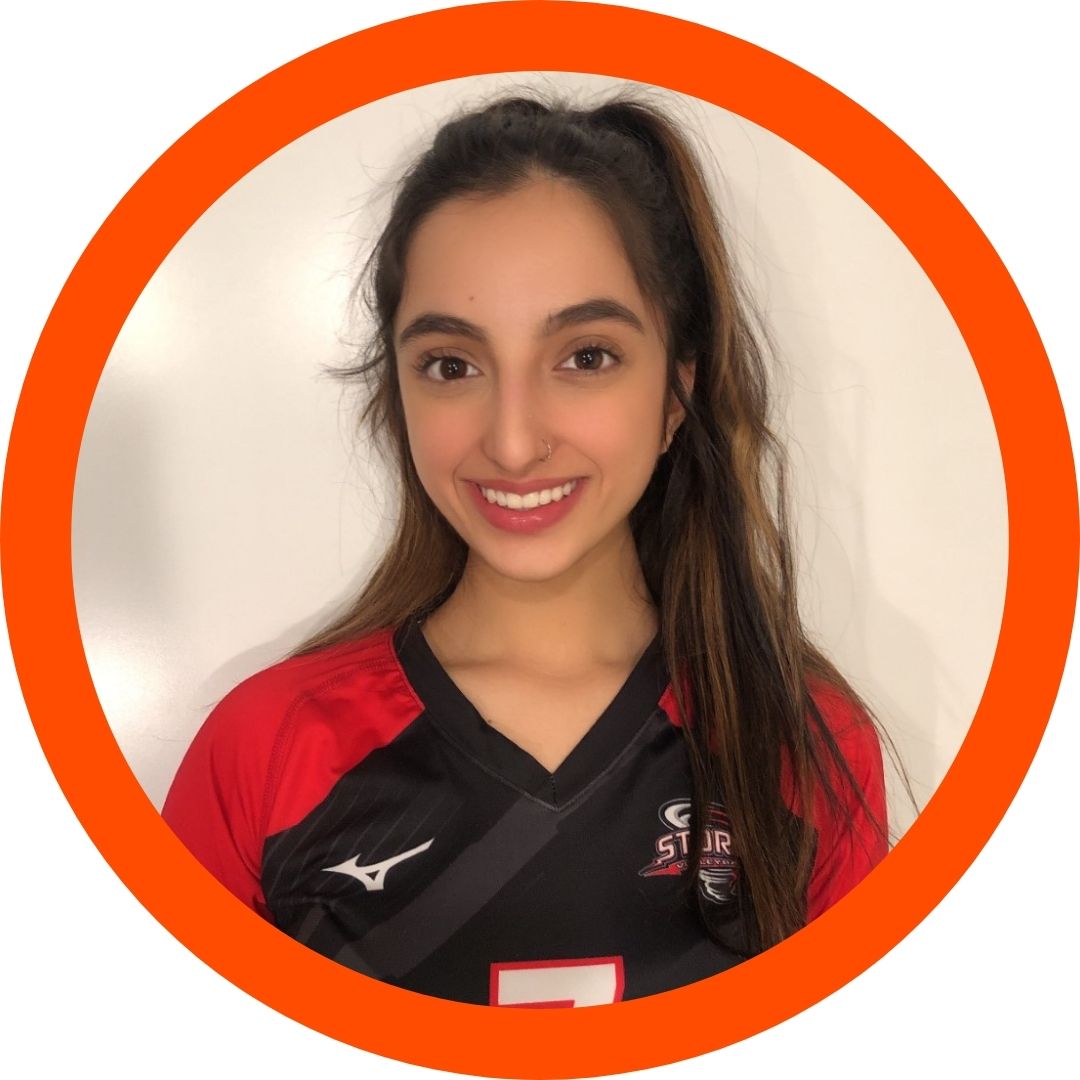 2021 Volleyball Schedule:
November 14th
Five words you can use to describe yourself on the court.
Driven
Loud
Encouraging
Resilient
Willing
Five words you can use to describe yourself off the court.
Empathetic
Buoyant
Assertive
Adventurous
Describe how you work in a team with your partners.
I thrive in an environment where I am able to work with others. I am respectful of others ideas and opinions and open-minded. I often find myself encouraging others and acting as a sort of glue of the group. I am a really willing teammate and will take the initiative to do the work that others may feel uncomfortable doing. I am also really optimistic and believe in the power of hard work so I am always acknowledging my peers or teammates strengths and accomplishments
Athletic highlights and how you felt when you received them.
I think one of the biggest highlights so far during my athletic career was when my coach told the team that I and one of my other teammates would share the role of being team captain at the Ontario Championships. This meant that I would be the one talking to the refs and going up for the toss. I would also be the one leading the team in warm-ups and drills before our games. Although I already did a lot of these things, it felt nice to get recognition for it and to be seen as someone who works hard and is able to fit in that role. I was also really happy to see how my other teammates would look up to me and come to me about clarification about certain matters during our games.
Involvement in other sports or extracurricular. Why is it important for you?
I love to play basketball and run. I wanted to get involved in track last year but was unable to due to the pandemic. I like to run and do fitness as it helps me mentally as well as physically. It
is a way for me to transfer my energy into something positive. I am also registered to participate in a Special High Skills Major program. This program helps me gain credits towards my diploma and focus on a specific economic sector I might be interested in for the future. Something else that I am a part of is The Medlife Movement. This movement is about reaching towards equal access to health care, education and safe housing, for people in need worlwide. This is really important to me a
What are your interests outside of sports? Why do you like them?
Other than sports some of my hobbies are writing, hiking and staying outside as much as possible. I am girl who absolutely loves the great outdoors. From hiking to fishing to rock climbing I love it all. I often think that the reason I love the outdoors so much because I love the animals and creatures that live in the wild, but I realize now that it is the beauty and peace of mind that comes with being around nature that I also love. I also love to write. In my free time I am always writing short stories or poetry in my journal. I like writing because it is a form of expression. Just like when im playing volleyball or running, writing helps me transfer my thoughts, energy and ideas into something
Who are your role models and why?
One of my role models definitely has to be my grandmother. She has always been hard work and dedicated to her goals ans aspirations even in her times of struggle. She was a single mother raising 7 kids in a country that was completely new to her. She is also extremely hopeful which is something I aspire to be every day. When looking at her life and struggle she went through it astonishes me how far she's come and how she still managed to accomplish everything she wanted to for both herself and her family.
Academic highlights and how you felt when you received them.
My first major academic highlight was becoming valedictorian for my 8th grade class. I was overwhelmed with joy and excitement. It felt nice to think that my peers and friends thought that I was the one person who would be able to represent them as a whole. I was also accepted into the gifted or Pre AP program for high school which was a great accomplishment for me. Also in high school I have been awarded agonist roll all 3 years so far.
What program would you like to attend in school?
Either zoology or psychology.
How do you envision your school life in college/university?
I envision my school life to be exciting and filled with challenges. I would love to move out and maybe even living on campus, and I would want to be really involved.
2021 Storm Volleyball Club
Strength and Conditioning Training
90 days with Reid Hall
5 times / week training
On Point Beach Volleyball
2x per week beach training
Storm Volleyball Grass Court
2 x per week grass training 
2020 Storm Volleyball Club
Team Captain
Setter
6 year member of Storm 12U – 17U
Multi sport athlete and participation: 
Volleyball
Basketball
Track and Field
Sacred Heart Catholic High School, Newmarket
Class of 2022
2020 Honour Roll student
86% average
Junior High School Valedictorian
Instagram: @rehmanvolleyball
Sit tight video coming soon! 
Will understand each and every athlete to ensure your recruiting experience is enjoyable and relaxing.
Regular online meetings offering support with updates about your recruiting profile.
Will provide full email and phone support during the recruiting process.
Professional athletic resume to be provided.
Professional 2-3 minute video created with your raw footage.
Will pre-screen in order to work with Canadian,  United States and overseas coaches.
BONUS - Will personally come and watch you play within a 150km radius of our home base.